Recipes
Vegetarian Beet Burger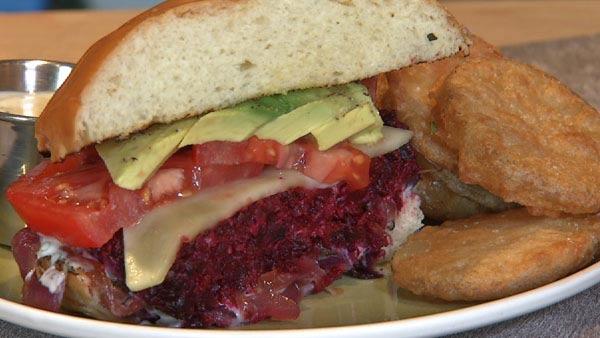 Servings: 6
Difficulty: Intermediate
Time:
Provided by: Chef Ryan Scott
3/4 pound beets, washed, peeled and cut in 1"
pieces
1/2 cup green lentils, cooked
1/2 cup bulgur wheat, cooked
1/2 cup roasted cashews, ground to a powder
8 ounces crimini mushrooms, sliced
1/2 cup onion, minced
1 clove garlic, minced
1 teaspoon fresh thyme, (ok to substitute dry)
1 teaspoon kosher salt
1/2 teaspoon pepper
4 tablespoons olive oil 6 slices of pepper jack cheese
Caramelized Red Onions (see below)
6 Brioche Buns
Lettuce (optional)
Avocado (optional)
Directions
Preheat oven to 400 degrees.
Place the chopped beets on a lightly oiled baking sheet and roast for 20 minutes or until tender.
Remove and set aside to cool.
Heat 2 tablespoons of olive oil in a sauté pan and sauté onion, garlic, mushrooms and fresh thyme for 5-7 minutes until onions are soft and mushrooms are lightly browned.
Set aside to cool.
In a large bowl of a food processor place the beets, bulgur, onions, garlic, mushrooms and thyme.
Process until mixture is combined and on the "chunky" side.
Add cooked lentils and continue processing until ingredients are combined. Remove mixture to a bowl and refrigerate for 20 minutes. Divide the mixture into six patties.
Heat remaining 2 tablespoons of olive oil on a flat griddle or large frying pan.
Carefully cook each side for about 5 minutes, until golden and crispy.
Melt the pepper jack cheese on the burgers.
Serve on toasted brioche buns with caramelized red onions and Ryan's homemade ranch dressing (click here for the recipe).
Add lettuce and avocado if you like!