Recipes
Mini Beignets with Caramel Apple Filling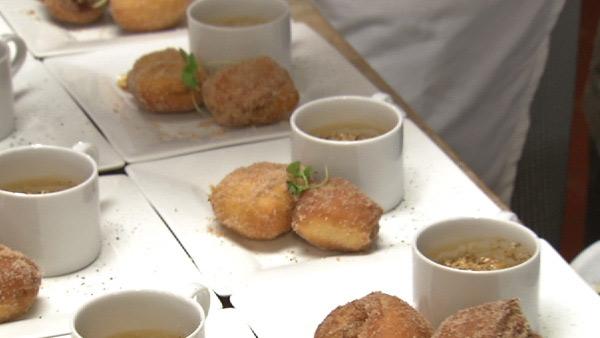 Servings: 16
Difficulty: Intermediate
Time:
2 tablespoons sugar
3/4 cup whole milk, lukewarm
1 teaspoon active dry yeast
2 tablespoons unsalted butter, softened
1 large egg, separated
1/4 teaspoon salt
1 3/4 cup (apprx.) All-Purpose Flour
vegetable oil (enough for deep frying)
2 teaspoons sugar
2 cups apple chunks, peeled, and cut in 1/2 inch cubes (keep in cold water with lemon juice to prevent browning)
1/2 cup caramel sauce (store bought or homemade)
Directions
In a large bowl of stand mixer, dissolve sugar in milk, sprinkle yeast over milk mixture and let stand until frothy, about 10 minutes. With paddle on low speed, beat in butter, egg yolk, salt and half of the flour.
Beat in 3 tablespoons at a time, until dough is soft and sticky but just holding together.
Scrape into buttered bowl; let proof on kitchen counter until doubled in size.
Punch down and cover with plastic wrap.
Refrigerate for at least four hours or preferably overnight.
Mix apples and caramel sauce in a saucepan and gently cook until apples are tender.
Let cool.
On lightly floured surface, roll out dough into 14 inch square.
Cut dough in half, then cut each half into 8 pieces to make 16 pieces total.
Spoon 2 tablespoons of apple filling onto the center of one half of each rectangle, brush edges with egg white.
Fold dough over filling to make beignet, firmly press edges to seal.
Into deep fryer or deep saucepan, pour enough vegetable oil to submerge the beignets.
Heat to 360 degrees.
Fry beignets, turning often, until golden brown for approximately 1-2 minutes.
Using slotted spoon, transfer to paper towel lined rack.
Let cool.
Sprinkle with sugar.