Recipes
Homemade Twinkies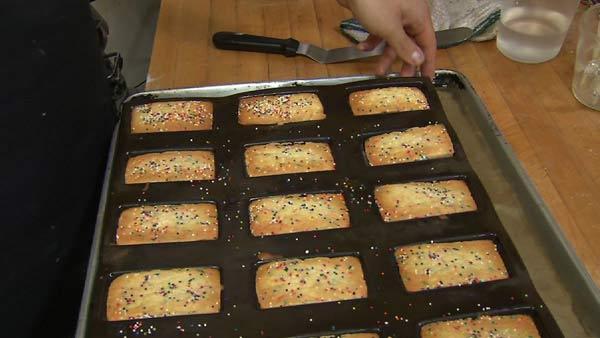 Servings: 24
Difficulty: Easy
Time:
Provided by: Ryan Scott
2 cups cake flour
2 t baking powder
1/4 t salt
1/2 cup butter room temperature
1 cup sugar, sifted
3 egg yolks
1 t vanilla extract
3/4 cup milk room temperature
Vanilla buttercream filling (recipe below)
Directions
Preheat oven to 375 degrees
Sift all dry ingredients before measuring.
Cream butter until soft. Gradually add sugar and beat until light. Beat in egg yolks and vanilla.
Sift together flour, baking powder and salt. Add the flour mixture to the butter mixture in three parts, alternating with milk.
Stir the batter until smooth after each addition.
For cake: Bake in greased layer pans about 25 minutes, until tester comes out clean.
For cupcakes: Fill cupcake papers 1/2 full and bake for 25 minutes.
Vanilla Buttercream Filling
Makes enough to fill 18-24 Twinkies or cupcakes
Basic buttercream filling that can be used for frosting or filling. It can easily flavored -- i.e. coffee, strawberry, chocolate or almond. Use your imagination.
2 sticks unsalted butter, room temperature
3-4 cups powdered sugar
1 teaspoon vanilla extract
Cream the butter with a mixer on medium-high speed for about 3 minutes. Add vanilla and mix. On slow speed, gradually add about 2 cups of powdered sugar and mix on high for a 2-3 more minutes to fully incorporate the sugar. At this time fold in any other flavor ingredient, i.e. fresh fruit, jam, powdered coffee, almond, orange or lemon extract Add more sugar and mix on medium-high until desired consistency is achieved.
Take an apple core or a paring knife and create a hole that goes length-wise through the center of the twinkie.
Fill a piping bag with the butter cream and use a thin piping tip to fill the cake.
Note: This recipe is missing glucose. Glucose gives a better shelf life for a commercial business but it's not necessary for the home chef.