Recipes
Homemade English Muffin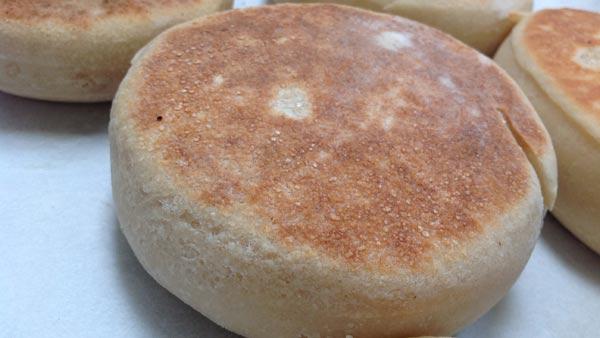 Servings: 8
Difficulty: Intermediate
Time:
Provided by: Ryan Scott
1 cup whole milk
2 T white sugar
.25 oz Active dry yeast
1 cup Warm Water (110 degrees)
2 T Butter, melted
2 T Shortening, melted
6 cups All purpose flour
1 T Salt
Directions
1. Warm the milk in a small saucepan until it bubbles, remove from heat.
2. Mix in the sugar stirring until dissolved. Cool to lukewarm. In a small bowl, dissolve yeast in warm water. Let stand until creamy, about 10 minutes.
3. In a large bowl, combine the milk, yeast mixture, butter, shortening and 3 cups flour.
4. Beat until smooth.
5. Add salt and remaining flour, or enough to make a soft dough.
6. Knead. Place in a greased bowl, cover and let rise. About 30 minutes.
7. Punch down dough. Roll out to about ¬? inch thick circle.
8. Cut rounds with a 4-6 inch biscuit cutter, glass or empty can.
9. Sprinkle waxed paper with cornmeal and set out the rounds.
10. Dust tops of muffins with cornmeal, cover and let rise about 30 minutes.
11. Heat greased griddle. Brown the muffins on the griddle about 10 minutes on each side on medium heat.
12. Keep baked muffins in a warm oven until all have been cooked.
13. Allow to cool and store in a plastic bag for storage.