Recipes
Hickory Smoked Beef Brisket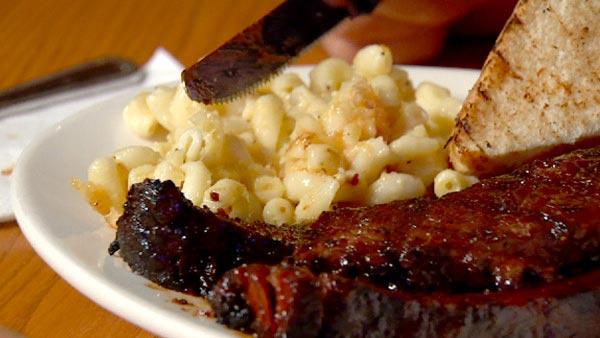 Servings: 4
Difficulty: easy
Time:
Provided by: Chef Ryan Scott and Mac's Speed Shop
For the rub: 2 pounds brisket
2 tablespoons paprika
2 tablespoons ground garlic
1 tablespoon cayenne
1 tablespoon, plus 1/2 teaspoon red chili flakes, divided
1 tablespoon, plus 1 teaspoon ground mustard, divided
1 tablespoon onion powder
1 tablespoon ground celery seed
2 tablespoons salt
1 tablespoon, plus 1/4 teaspoon freshly ground black pepper, divided
1 cup ketchup
1 cup cider vinegar
1 cup brown sugar
1 teaspoon garlic powder
Directions
To prepare rub:
In a medium bowl combine paprika, garlic, cayenne, 1 tablespoon red chili flakes, 1 tablespoon ground mustard, onion powder, celery seed, salt and 1 tablespoon pepper. Rub onto the brisket and wrap tightly in a plastic wrap. Let marinate refrigerated at least 6 hours or overnight. Remove the meat from the refrigerator and let come to room temperature.
To prepare red sauce:
In a medium bowl mix together ketchup, cider vinegar, brown sugar, remaining ground mustard, garlic powder, remaining red chili flakes and 1/4 teaspoon black pepper until well mixed.
Soak hickory wood chips in a large bowl of water for 1 hour. Remove, drain and set aside.
Prepare a smoker with charcoal and the wood chips according to the manufacturer's instructions to 180 to 200 degrees F. Place the water pan in the smoker and add water to the fill line, about 2/3 full. Place the unwrapped brisket on the lower rack off the direct heat, close the lid, and cook, regularly stoking the fire and adding additional chips, until thermometer reads an internal temperature of 170-180 degrees F, or until the meat is tender, about 4 to 5 hours. Remove the meat from the smoker. Let brisket rest for at least 20 minutes before slicing against the grain into 3/4 inch thick slices. Grill over a hot grill 3-4 minutes on each side, or until char marks darken. Remove from heat and slather red sauce over slices. Serve hot.