Recipes
Hash Brown Gnocchi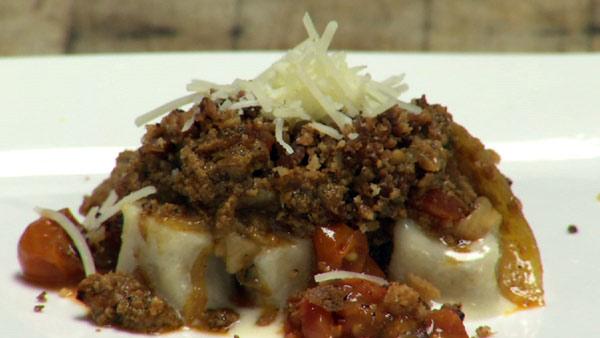 Servings: 6-8
Difficulty: Intermediate
Time:
Provided by: Chef Ryan Scott
1 pound uncooked prepared hash browns, grated or riced
1 large egg, beaten
1 cup All-Purpose flour
2 tablespoons brown sugar
1 teaspoon kosher salt
dash of freshly ground pepper
Directions
Mix together all the ingredients by hand until you have a pliable ball of dough. DO NOT OVERMIX!
On a floured work area, take the dough a piece at a time, and roll it out GENTLY with your hands into 'ropes' 3/4 inch diameter.
It is important not to over handle the dough or it will be tough.
Cut the ropes of dough into pieces about one inch long. Using the tines of a fork, press against each piece of the dough.
Place the gnocchi on flat baking sheet lined with parchment paper.
Bring at 6 quarts of salted water to a boil in a shallow saucepan.
Gently drop the gnocchi, a few at a time, into the water.
As soon as they rise to the surface, remove them with a slotted spoon, draining well.
Serve with heated 24 Hour Braised Mickey D's Sugo Sauce and freshly grated parmesan cheese.