Recipes
Grilled Lamb Riblets with Lemon and Oregano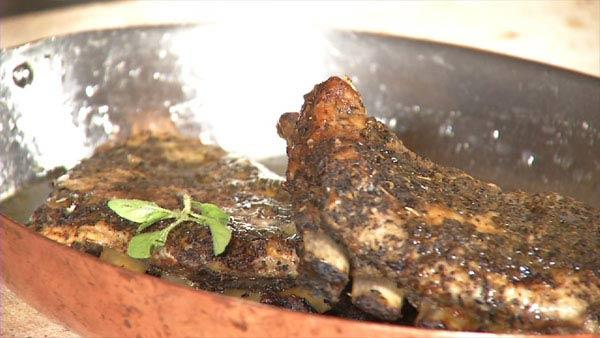 Servings: 4-6
Difficulty: Easy
Time:
Provided by: Kokkari
4 slabs lamb riblets (from 4 racks), about 2 pounds total, fat cap removed
2 teaspoons garlic powder
2 teaspoons dried Greek oregano, crumbled
Sea salt and freshly ground pepper
1 1/2 cups chicken stock or water
1/4 cup fresh lemon juice
Kokkari Dressing (recipe below) or lemon halves
Chopped fresh oregano leaves, garnish
Extra virgin olive oil for drizzle
Directions
Trim any excess fat from the riblets.
Combine the garlic powder, dried oregano and 1/2 teaspoon pepper to make a spice rub. Season the riblets heavily on each side. You can prepare the riblets to this point up to 1 day ahead; cover and refrigerate.
Preheat the oven to 375 degrees. Just before cooking, season the riblets well with salt. Place them in a baking dish that will hold them snugly. (They will shrink as they cook.) Pour the stock and lemon juice over them. Cover with foil and roast until the meat is fork-tender and beginning to separate from the bones, about 1 1/2 hours. Remove from oven and let them cool in the broth.
Over a medium heat on the grill (charcoal or gas) grill the lamb until crusty and richly browned on top and heated through, about 7 minutes, turning them occasionally and moving them away from the direct heat as needed to keep the bones from charring too deeply.
Cut into individual ribs and transfer to a serving platter. Drizzle with dressing (click here for the recipe) or with fresh squeezed lemon juice. Scatter fresh oregano and a drizzle of olive oil to finish the dish.
Serve HOT!