Recipes
Ginger Peach Crostata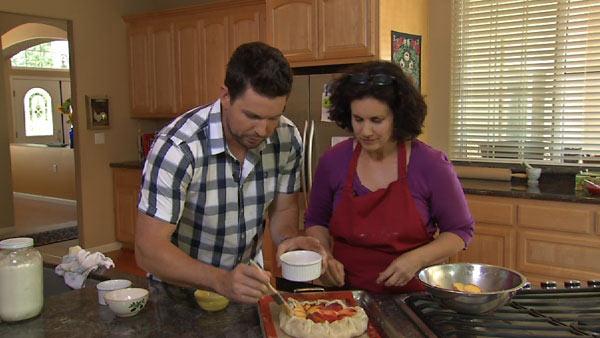 Provided by: Becky Courchesne
2 cups Al-Purpose Flour
2 Tablespoons Granulated Sugar
3/4 teaspoon Salt
8 ounces Unsalted Butter, chilled and cut into 16-20 cubes
1 Egg
1 teaspoon Sour Cream
4 Tablespoons ice-cold Water
Directions
In a food processor, combine flour, sugar, egg and sour cream. Pulse in butter until mixture resembles coarse crumbs. Add water and stir mixture until it forms a ball.
Turn dough out onto a lightly floured board and form into 2 disks. Wrap and refrigerate for 1-2 hours (or overnight). Do not overwork the dough. You want to be able to see flecks of butter.
Ingredients for the Filling:
5-6 ripe Frog Hollow Peaches, sliced with skin on
1/4 cup finely grated ginger
Juice for half a Lemon
Ingredients for Crumb Topping:
1/4 cup Brown Sugar
1/4 cup White Sugar
1/4 teaspoon ground Cinnamon
1/8 teaspoon Salt
1/4 cup chilled and cubed Unsalted Butter
Procedure:
Preheat oven to 350 degrees. Line a cookie sheet with parchment paper and set aside. In a bowl, combine peaches, sugar and lemon juice and mix until combined.
Roll dough round into an 11-inch diameter. Trim out 11 inch circle and discard any leftover dough. Place dough on cookie sheet. Fan out fruit to 9" diameter. Bruch egg wash on 2 inch remaining dough. Fold exposed dough over fruit. It should leave an open center to the crostata of about 6 to 7 inches. Egg wash the exterior of the dough. Add a few small chunks of butter to center of crostata. Sprinkle entire top with crumble mixture.
Bake at 350 degrees for approximately 20 minutes, or until the crust is flaky golden brown.