Recipes
Frittata with Egg Whites, Bacon and Tomatoes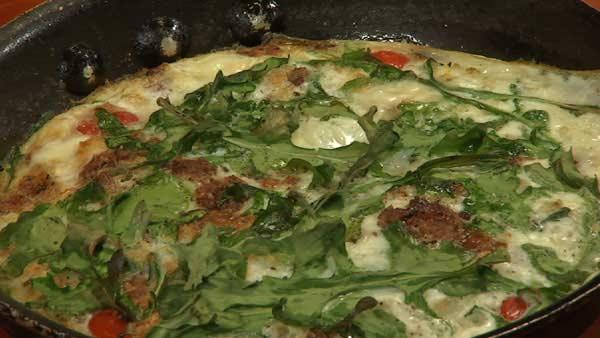 Servings: 4
Difficulty: Easy
Time:
Provided by: Ryan Scott
4 egg whites lightly beaten
1 cup blistered cherry tomatoes (directions follow)
½
cup cubed mozzarella cheese
3 pieces of Ryan's special cooked bacon, cut in bite size pieces
1 cup arugula
salt &
pepper
Preheat oven to 350 degrees
Directions
Oven Baked Frittata
1. Heat 8 inch oven proof fry pan on stove top.
2. Place mozzarella cheese, tomatoes, & bacon in pan.
3. Add egg whites and salt and pepper to taste. Top with arugula.
4. Bake in preheated oven for 15- 20 minutes until eggs are set. DON'T over bake or it will be tough. Serve immediately.
Blistered Tomatoes
In a small frying pan, heat one teaspoon olive oil on high heat.
Quickly cook tomatoes until they just blister, don't overcook.
Ryan's Special Bacon
Mix equal amounts of fresh ground black pepper, chopped fresh rosemary and brown sugar. (Ok to substitute with dry rosemary)
Sprinkle on bacon and bake in oven until done.