Recipes
Fall Salad with Poached Egg and Warm Bacon Vinaigrette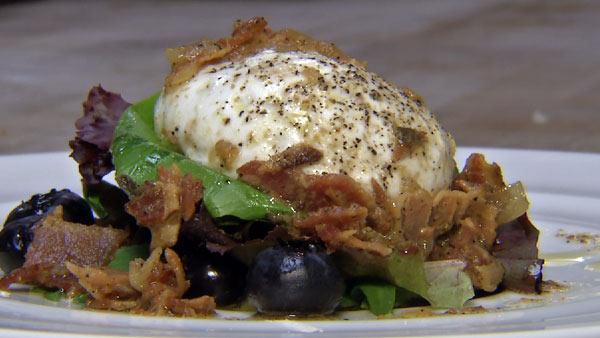 Servings: 4
Time:
Provided by: Chef Ryan Scott
4 poached eggs
1 cup Pickled Blueberries (Recipe Below)
1 cup Buttered English Muffin Croutons
1/2 cup Warm Bacon Vinaigrette
4 cups mixed greens
Directions
Toss the greens lightly with some of the vinaigrette. Place the greens on a plate.
Next place the pickled blueberries (recipe below) and croutons.
Gently place the poached egg on top and drizzle with more dressing. Click here to learn how to make the perfect poached egg.
Pickled Blueberries
(Makes 4 cups)
1 pound fresh blueberries
1 small red onion, thinly sliced
3-4 stalks of fresh dill
1 cup flat parsley, NOT chopped
1 cup champagne vinegar
1 cup water
1/4 cup sugar
2 tablespoons kosher salt
Whisk together vinegar, water, sugar and salt until dissolved.
Add onion, blueberries, dill and parsley.
Cover and refrigerate overnight.