Recipes
Chicken Maple Sausage Patties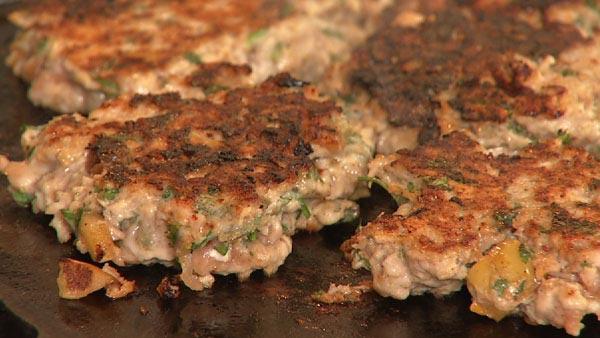 Servings: 18
Difficulty: Easy
Time:
Provided by: Chef Ryan Scott
2 pounds ground chicken thighs, skinless and boneless
3 tablespoons chunky applesauce
3 tablespoons raisins
1 tablespoon maple syrup
2 tablespoons maple sugar
3 tablespoons onion powder
1 tablespoon smoked paprika
1 1/2 teaspoon garlic powder
1 tablespoon fresh sage, finely chopped
1 teaspoon fresh thyme, finely chopped
1/2 teaspoon ground allspice
1/2 teaspoon ground coriander
1/2 teaspoon celery salt
1/2 teaspoon celery seed
1 teaspoon Kosher salt
Freshly ground pepper to taste
Directions
Combine the dry ingredients.
Mix chicken, applesauce, raisins and syrup together.
Add the dry ingredients and mix well.
Refrigerate the mixture for 30 minutes.
Form the patties into 4 inch rounds.
The patties can be refrigerated or frozen at this point.
Heat a non stick pan over medium-low heat. Cook patties about 3-4 minutes per side until cooked through.