Recipes
Cashew Brittle with Sea Salt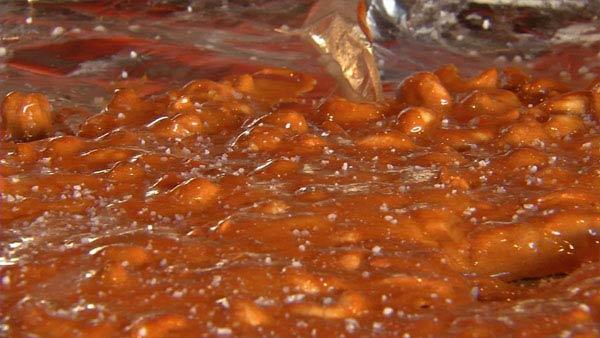 Servings: 5-6
Difficulty: Intermediate
Time:
Provided by: Chef Ryan Scott
1 cup sugar
1 cup light corn syrup
1 tablespoon butter
2 1/2 cup roasted and salted cashews
2 teaspoons baking soda
1 teaspoon coarse sea salt
Directions
Line a large rimmed baking sheet with foil, generously butter foil.
Heat sugar, corn syrup and butter in a large saucepan over medium heat until the sugar dissolves and mixture comes to a full boil. Stir gently to blend.
Boil, WITHOUT STIRRING, 7-9 minutes or until syrup begins to turn a pale amber color.
Continue boiling 3-4 minutes until the syrup is a shade darker, stirring only to blend and distribute color evenly.
Stir in the cashews; cook 1-2 minutes until the syrup is a shade darker.
Working quickly, remove from heat; stir in baking soda (mixture will foam up).
Spread with a spatula (sprayed with cooking spray to avoid sticking), as thin as possible.
Sprinkle with salt, pressing lightly onto brittle.
Cool completely; break into pieces.
Brittle can be stored in an airtight container at room temperature for up to two weeks.