Recipes
Caramel Apples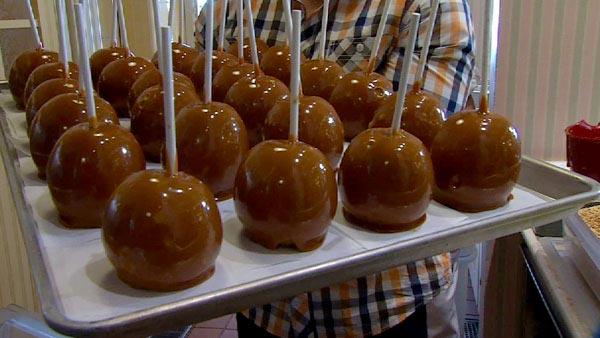 Servings: 4
Difficulty: Easy
Time:
Provided by: Disneyland Resort
1 cup sugar
1/4 cup water
1/2 cup salted butter
1/2 cup heavy cream
1 teaspoon vanilla
4 Large tart apples
2 cups chopped peanuts
4 sticks
Directions
For Caramel Sauce 1. In a heavy saucepan, stir to combine the sugar and water. Cook over medium heat until the sugar dissolves, 4-6 minutes. DO NOT stir. Swirl the pan occasionally until the sugar dissolves. 2.Increase the heat to medium high and continue cooking the sauce, swirling the pan occasionally until the sauce is amber colored, about 7-9 minutes. Watch carefully, but
Do not stir or scrape down the sides.
Add the butter, it will bubble and sputter, lightly stir with a wooden spoon or spatula, again DO NOT scrape down the sides. This will cause crystallization, if the uncooked sugars get back in the sauce. 3. When the butter is melted, remove the pan from the heat and add the vanilla and heavy cream. It will bubble and foam up, but do not scrape down the sides. Stir to combine and let cool before transferring to a jar for storage.
For assembling apples:
1. Insert the stick in the bottom end of the apple. 2. Dip the apple in the warm caramel and swirl to Remove the excess. Scrape the sides. 3. Roll the covered apple in the chopped peanuts. 4. Place in a cupcake holder and on a flat sheet pan. 5. Refrigerate.