Recipes
Bacon Mac and Cheese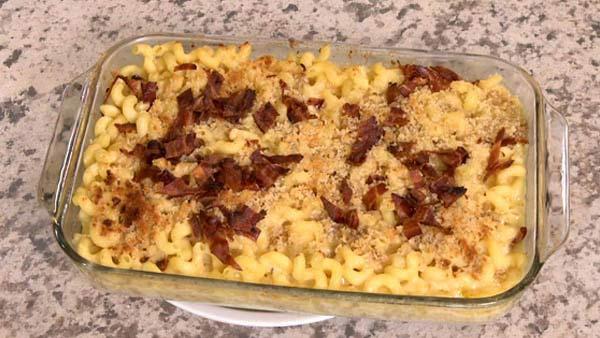 Servings: 6-8
Difficulty: Easy
Time:
Provided by: Chef Ryan Scott
6 tablespoons unsalted butter, divided, plus more for greasing
1 pound corkscrew pasta
2 tablespoons all purpose flour
3 cups whole milk
1/4 teaspoon ground nutmeg
1/4 teaspoon ground white pepper
1 1/2 cup shredded Fiscalini Bandage Wrapped Cheddar cheese
1 1/2 cup shredded Fiscalini Lionza cheese
1 pound bacon, cooked and crumbled
1/2 cup grated yellow onion
1 cup Panko breadcrumbs
Spoonful of Dijon Mustard
Directions
Preheat oven to 350 degrees F. Grease a 9x13-inch baking dish and set aside.
Place a large pot of water over high heat and bring to a boil.
Add pasta and cook 6 minutes; pasta will be slightly under-cooked.
Drain and set aside.
Place 4 tablespoons of butter in a medium saucepan over medium heat.
Add flour and whisk for 2 minutes.
Whisk in milk, nutmeg and white pepper.
Increase heat to medium high.
Bring to a boil, remove from heat and stir in cheeses.
Place pasta in a large bowl.
Add sauce, bacon and onions, stirring to combine.
Transfer to prepared baking dish.
Melt remaining butter and place in a small bowl.
Add breadcrumbs and Dijon mustard.
Stir to moisten.
Sprinkle over pasta.
Cover with foil and bake for 30 minutes.
Remove foil and bake until top is golden brown, about 20 minutes.
Remove from heat and serve hot.