Food Rush Episodes
Ryan Scott Puts Spin on Nigella Lawson's Recipes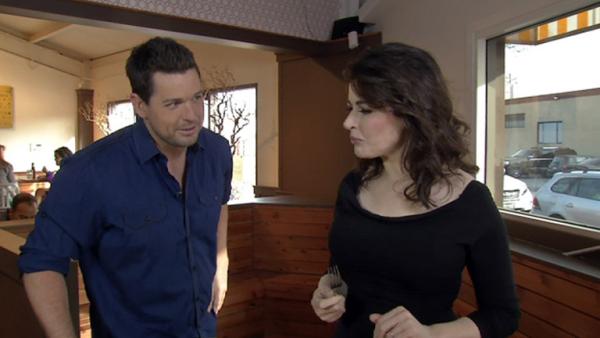 Nigella Lawson, co-host of the ABC cooking competition show 'The Taste,' stops by Ryan's restaurant. She is in town to promote her latest cookbook and Ryan wants to treat her to three of her very own recipes with a twist -- two desserts and one savory dish.
But first, Ryan visited a local chocolate factory to get some inspiration and a lesson in chocolate tasting. Then, he stopped by Dianda's Bakery to get a chocolate sponge cake for one of his recipes.
Back at the restaurant, Ryan has a couple of hours to create three of Nigella's dishes with his own unique twist -- Chocolate Hazelnut Mousse Cake, Tiramisu, and Sicilian Pasta with Tomatoes, Garlic and Almonds.
For more information on Nigella Lawson visit nigella.com.