Food Rush Episodes
Preparing Perfectly Poached Egg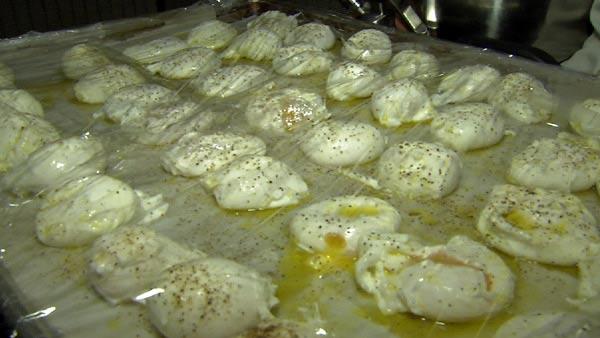 For Ryan's first course of his charity dinner, he is making a salad with soft poached eggs. He shares some tips for making perfectly poached eggs at home.
Tips on Poaching the Perfect Egg
1. The temperature of the water must be between 180 and 200 degrees with just a simmer at the top.
2. Use a shallow pot, open enough to where you can make a whirlpool with boiling water.
3. Create a whirlpool to where it creates friction and waves in the water so it will pull the eggs around the pot.
4. Crack and add eggs in round pan first.
5. Once finished cracking eggs add splash of vinegar to raw eggs.
6. Add splash of vinegar to boiling water which helps eggs to coalesce.
7. When ready to poach the eggs set the pan of raw eggs as close to the boiling water as possible so they can immediately turn in the whirlpool.
8. For the perfect poached egg to your liking, poach for 3-5 minutes for a soft poach, 7-9 for a medium poached, and 10-12 over hard poach.
9. If you're poaching a lot of eggs for guests and looking to make eggs benedict, remove soft poached eggs from boiling water and immediately place in a bath of ice water so they will immediately stop poaching. When you are ready to serve your eggs benedict remove poaching eggs from the ice bath and set atop a toasted English Muffin and place combination in oven to bake for a couple of minutes for the perfectly cooked dish.
10. You can break eggs one handed by breaking them on one side and separating the two halves with your thumb on bottom half and your index and middle fingers.
11. When cracking eggs, if you have a piece of shell in your yolk mixture just use a larger piece of egg shell as a magnet to remove any shell pieces from the yolk mixture.
Click here to get Ryan's recipe for poached eggs.
For More Information on the Ronald McDonald House Charities of the Bay Area:
Ronald McDonald House of San Francisco
1640 Scott Street
San Francisco, CA 94115
Phone: (415) 673-0891
www.ronaldhouse-sf.org
Ronald McDonald House at Stanford
520 Sand Hill Road
Palo Alto, CA 94304-2001
Phone (650) 470-6000
www.ronaldhouse.net
For More Information on the California Culinary Academy:
California Culinary Academy
350 Rhode Island Street
San Francisco, CA 94103
Class Information: 1.888.897.3222
All Other Inquiries: 1.415.771.3500
www.chefs.edu/San-Francisco