Food Rush Episodes
Delicious Greek Dishes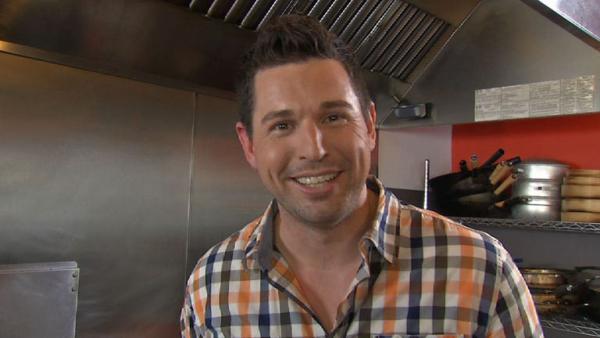 Chef Ryan Scott goes on a hunt for new Greek recipes to serve his friend. He visits two San Francisco restaurants to get some ideas and then he puts his own spin on a Greek-inspired meal.
To get some inspiration for a Greek meal that Ryan is planning to serve to his friend, he heads to Walley's Cafe in San Francisco. It is hidden gem that serves some of the best Greek food. To get to the restaurant, you have to walk through a bar.
Walley Matar, owner of Walley's Cafe, serves a delicious Greek salad, which he shows Ryan how to make. He uses sumac, which is a spice used to add a citrus taste to salads or meat, fresh lemon juice and red wine vinegar. The result is a perfectly blend of fresh flavors.
There is another Walley specialty that Ryan will drive miles for -- his famous garlic dip. It goes great with chicken, lamb or veggies.
When Ryan thinks about Greek food, he definitely thinks lamb so he heads to Kokkari -- a San Francisco restaurant known for its authentic Greek food. One of their most famous dishes is grilled lamb riblets. Chef Tony Cervone shares the secret recipe with Ryan.
Ryan's first Greek-inspired dish is an artichoke and goat cheese spread. Then, Ryan prepares a liberal twist on Walley's Greek salad. He builds a salad that is made with raw corn, blackberries and quinoa. Finally, Ryan makes falafel from scratch and homemade pita bread.
Ryan serves up his own version of a Greek feast to his friend John Vlahides, a food and travel expert. Will John approve of his attempt at Greek cooking?
Ryan was searching for a recipe for Baklava, so John shared his Aunt Voula's treasured, secret family recipe for the traditional, mouth-watering, decadent Greek dessert.
John really enjoyed all the Greek-inspired dishes Ryan made for him. They ended the meal with a Greek tradition -- breaking plates!
For More Information:
Wally's Cafe
3900 San Pablo Ave
Emeryville, CA 94608
510-597-1303
Kokkari
200 Jackson Street
San Francisco, CA 94111
415-981-0983
kokkari.com
For more information about John Vlahides visit johnvlahides.com.