Food Rush Episodes
Chef Ryan Scott Tastes Southern Cooking in Charlotte, North Carolina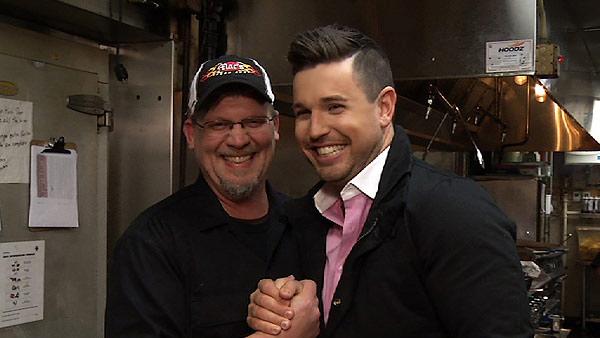 Chef Ryan Scott is on a Southern cooking adventure in Charlotte, North Carolina where visits local hot spots that specialize in tasty barbecued beef and fried chicken and learns the secret to Southern hospitality: great food!
There's nothing like good old Southern comfort food. What's the secret? How come it tastes so good? Chef Ryan Scott visits Charlotte, North Carolina to get the inside scoop on fabulous Southern-style cooking by checking out some of the local hot spots.
Ryan's first stop is Mac's Speed Shop, a biker bar that's a well known BBQ joint, where he meets executive chef Kevin Kuruc. Ryan gets a lesson on how to cook up some tasty Carolina hickory smoked brisket, the restaurant's signature dish. Ryan tastes a bite right out of the smoker and loves it.
"That is smoky, that is peppery, that is good!" he says. Along with the brisket, Ryan tries collard greens, cooked with onions and bacon until they're delicious and tender. Overall, Ryan loves his meal at Mac's and toasts Kevin's cooking.
"What an introduction to Southern cooking! You set the standard, buddy," says Ryan.
Next, Ryan heads to King's Kitchen for some famous pan fried chicken. The secret to their great fried chicken is a salt-water brine and a cast iron skillet. King's isn't just known for it's great chicken, but for the ways it serves the community. The restaurant trains people who have been released from rehab or prison and trains them for a year and then helps them find another job. Ryan is impressed by both their community service and their finger-licking good chicken.
"This is moist, crispy and just fall off the bone amazing," says Ryan.
After that, Ryan heads to the 1950s drive-in BBQ King for their popular pulled pork plate. The pork shoulder is cooked for 10 hours on the bone with the skin on, to make it tender and delicious.Then comes BBQ King's homemade barbeque sauce, a family secret for generations.
"That pork is so tender," says Ryan. "I know why you guys have lines out the door. This is amazing."
Just when he thinks it can't get any better than that, Ryan meets the food love of his life: shrimp and grits at Rooster's restaurant! This farm-to-table restaurant is known for their local products and regional flavors. It's a great dish that sums up a great time in North Carolina!
"It has been nothing but Southern hospitality in Charlotte," says Ryan. "I have had an amazing time."
For more information on the restaurants featured in this episode, visit: