Food Rush Episodes
A Twist on Classic Breakfast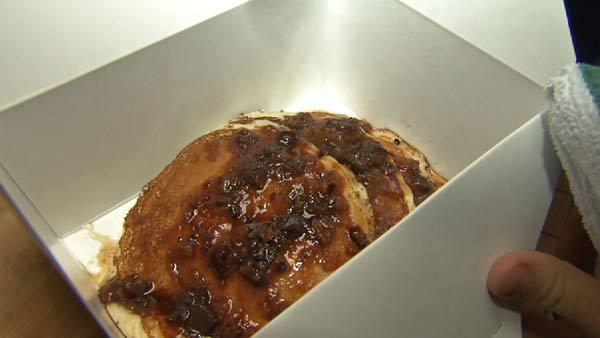 Ryan reveals his twist on the classic steak and eggs sandwich. Don't miss these fun ways to get creative with your breakfast!
Ryan's back in the kitchen, and he's showing us all the secrets to his innovative breakfast creations. Are you a fan of steak and egg sandwiches? How about buttermilk pancakes with pineapple! Watch him whip up some great dishes. You'll be dying to try them for yourself!
Recipe: Steak and Egg Breakfast Muffin
Recipe: Buttermilk Pancakes
Recipe: Caramelized Pineapple Topping for Pancakes
Tips for Buttermilk Pancakes
Whether you're making pancake mixture from scratch or from the box, do not overbeat. It's okay to have lumps! You want to mix until the ingredients are just combined. If your mixture is too fine, then your pancakes will be dense.
Cook on medium-low speed. This will allow the pancake to cook more thoroughly on the inside rather than burning quickly on the outside.
Resist the temptation to flatten your pancakes. Flattened pancakes will be dense rather than fluffy and airy.
The best time to flip is when you see bubbles forming not the small ones that pop up immediately, but the larger bubbles that appear as the pancake becomes a golden brown.
Make your breakfast the Ryan way: Add pineapple, banana, or another fresh fruit into the center of your pancakes while they're cooking. If you're craving that sweet and savory taste, throw in some bacon!