Deals Episodes
Uses for Vodka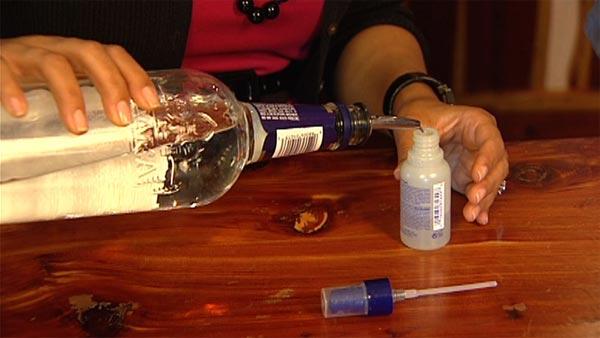 Vodka isn't just for drinking. From battling weeds to killing bad odors, we are taking vodka beyond happy hour and into your household chores.
We love to find new uses for old products! We've shown you different things you can do with olive oil, mouthwash, even beer! So why not tackle vodka? The general manager at V21 Shot Bar and Grill says vodka is a great mixing platform. You can soak pretty much anything in the clear liquid and it will pull the flavor right out it.
Obviously we are all about saving money -- so we're not talking about experimenting or wasting your expensive vodka. We are using a very inexpensive brand and we're only using the amount needed to get the job done!
1. Hibiscus Tincture
Remove green vegetation from hibiscus. Put in jar and fill to the top with vodka. Place in sun for 1-2 days. Remove flower and use. Hibiscus is good for treating dandruff and stimulating hair growth. It can also be used to on wounds, for cramping as well as colds, respiratory and circulation disorders.
You can use other flowers like lavender or herbs. Each will have different properties.
2. Odor Eliminator
Pour in spray bottle and use on musty-smelling items.
3. Remove Stains
Dip clean cloth in vodka and blot on stain and then launder the item in your regular wash.
4. Weed Killer
Spray bottle
1 oz Vodka
3-5 drops liquid dish soap
2 cups water
Mix vodka, dish soap and water in spray bottle. On a sunny day spritz weeds with solution until dripping wet.
The solution mixed with the sun's heat works to dry out and destroy weeds.
5. Beaded Clothing
Pour a small amount of vodka in spray bottle and spray on beaded clothing. You may want to turn the clothing inside out before spraying. Vodka kills odor-causing bacteria, but doesn't leave a scent when it dries.
6. Mold and Mildew Cleaner
On caulk and grout, spritz moldy areas and let sit for 30 minutes. Scrub areas and rinse thoroughly. For bathroom tile: spray vodka and let sit for 5-10 minutes then wash clean.
6. Preserve Fresh Flowers
Mix two teaspoons of vodka and one teaspoon of sugar in vase and fill with water. Add plants. Vodka will help keep them wilt-free longer.
7. Adhesive Remover
Rub clean, vodka-soaked cloth over bumper stickers, price tags to remove sticky glue.
8. Glass Cleaner
Mix water and vodka in spray bottle. Spray on windows and wipe clean
9. Treat Poison Ivy
Immediately pour vodka on exposed area. You may need to use 100 proof to work.
10. Repel Insects
Pour into spray bottle and squirt on the insects or on yourself as a repellent.
Due to the pre-recorded nature of this program, some prices may not be current. Please check your local retailer.