Deals Episodes
Trendy DIY Nail Art Techniques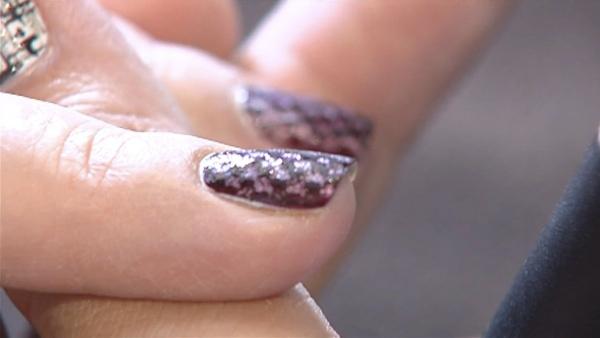 If you don't have the time or the money to visit the salon, but you still want perfect nails, we have secrets on how to get a home manicure that looks professional, including how to get the latest trends like color blocking, snakeskin nails and designer nail art.
"In the last 10 years or so, the nail art trend has taken over the industry. And with the introduction of gel, doing nail art with gel is really big right now, says Nail tech Chris Painter with Isle Pedi Spa. With any of these designs, Chris recommends enlisting the help of a partner to make it easier. Nail are can cost anywhere from $75 to $150. Forget that! Kat challenged Chris to come up with a few easy styles we can re-create at home for a lot less.
Color Blocking Nail Trend
To get this look, you'll need a base coat, a top coat, and 2 colors, a wood cuticle stick or orange stick and small foil dots, which you can find at any craft store. Always start with clean hands. The nail plate should be dehydrated before you polish, which you can do by adding rubbing alcohol or acetone nail polish remover. Apply your two coats of the first color and let it dry. Add the second color you can do it vertically, horizontally, diagonally - any direction. To get the line, just free hand it. Since we'll cover the split with dots it doesn't have to be perfect. You should use less polish on the brush, rather than too much and add a second coat if To add the dots, wet the end of an orange stick or cuticle stick to pick up the dots and add them to the nail. Try to get them as close together as possible because you want to give the illusion that there is no line. Add a top coat and you're done!
How to Get Snakeskin Nails
To recreate this trend, cut a piece of an old pair of fishnet stockings. Start with clean hands, dehydrate the nail plate before you polish by adding rubbing alcohol or acetone nail polish remover. Use a metallic base color. Chris says it dries faster and is a little bit more durable. Let it dry completely before adding your next color.With the next coat, cover the metallic coat completely. Lay the piece of stocking over the wet nail, dabbing it lightly. Peel off, and you have our design! We chose a top coat that has a holographic shimmer to add another dimension to our snakeskin look and finished with a top coat.
Get Designer Nail Art at Home
To do nail art at home, get nail art polish, which comes with tiny brushes so you can make smaller designs. Start with a base color. Let it dry. To make a flower, make a dot and slightly pull the dot to create a petal shape. Do this four or five times with the petals reaching in toward each other. You can add a few accent dots in the other corner and you're done. To create a zebra nail art look, use the nail art brush to make slightly wavy lines that start from either side of the nail and end in the center. You can also glitter to create a more finished look. To make polka dot nail art, use the pointed end of a cuticle stick to apply dots of different color polish. You can even buy little rhinestones at a craft store to achieve an even trendier look! Make them stick by applying a point of top coat before and after you pick up the rhinestone. For more from Chris and Isle PediSpa, visit
IslePediSpa.com.