Deals Episodes
Trash to Toys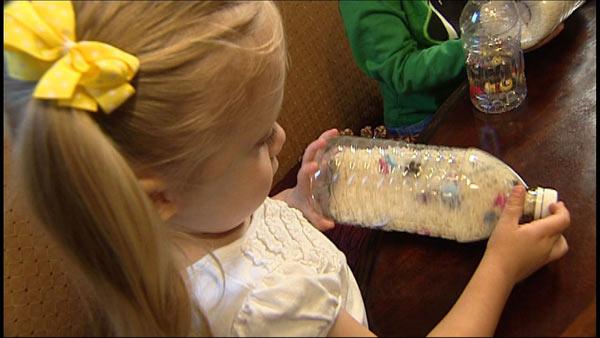 From an old water bottle to a used coffee or soup can, turning trash into toys is easier than you might think and entertaining, too.
"The kids have fun with it, they enjoy it. We are going to save money by using items you can find around the house to make different types of fun activities and games you can make with your children and have fun playing with them."
Kerri Cheney, CEO of "Kidnnected" magazine, knows how to entertain kids on a budget. She uses everyday items around her house to create toys for kids.
Coffee cans - Fill an empty coffee can with dried beans or some pennies -- different items that are going to make noises. Cover it with saran wrap and let the kids draw on it with a piece of paper on the outside and then play with it. And then you've got a little drum they can pat with and they can roll it and hear the different noises.
Water bottles - Put some rice inside there and hide different objects inside. It is kind of a "find it" game. You could put a penny, safety pin, different shiny rocks or some sea shells. All you have to do is put the top back on, seal it with some glue or a hot glue gun and it's ready to play with.
Egg cartons- Store paint in there. You can put the different types of colors of paint, then when the children are painting it holds all the different colors. When you are done with it, instead of throwing it out, you can put a piece of saran wrap over the egg carton and it will store for the next time."
Sock- Fill with some dried beans, or pennies or any object that is going to make some noise or just feel good when they are touching it. Tie it up in the end and then it's a good tactile game. It's a lot of fun because they can toss it back and forth and it's soft on the outside.
Other "Trash to Toys" Ideas:
Bobbins- perfect for print painting and necklaces with wool a fabulous opportunity for counting, stacking , threading embracing fine motor skills, language, cognitive devt etc.
Shoe boxes- can become mail boxes or simple stay as shoe boxes with a cardboard measuring stick for "role play" as a Shoe store theme for the day!
Napkins- design your own tie dye napkins with your child, a few sheets of heavy duty kitchen roll & a 'dropper' with various cups of food coloring and water.
Eggs that have expired- boil them and let children have 'egg and spoon races' or glue hair on as 'eggheads' with eyes etc.
Old pillowcases- 'jumping sack races'
Sheets- camp houses affixed to outside trees is a lot of fun!
Trying out a few of these toys can help solve an age old problem many parents face.
"How often have you bought a toy and then a few weeks later your children -- they don't want to play with it anymore? They want the next greatest best thing or they are just tired of it. We are going to be able to use these toys and not spend a lot of money on it."
For more information visit getkidnnected.com.