Deals Episodes
Tough Cleaning Solutions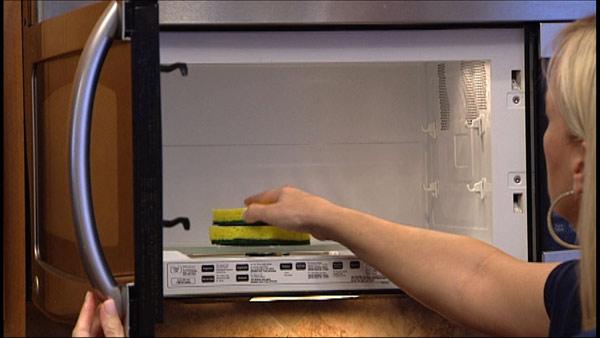 Get simple solutions for some of your toughest cleaning problems! From stuck on kitchen and bathroom grime, melted wax on the carpet and even broken glass in the dishwasher, professional organizer Julie Hibbs shares the most effective ways to tackle some of the most stubborn jobs in your home.
Problem: Shower Door Soap Scum
Solution: Spray Tilex on the door and then use a Magic Eraser. The soap scum comes off immediately! Follow-up with a glass cleaner for a perfect shine.

Reducing Future Build-up: Treat the doors with a product like Aquapel or Rain-X. These glass treatments form an invisible film on the glass to increase water repellency, causing water and soap to bead up and run off the glass. The products repel water for six months. And, always remember to squeegee off the water after bathing to keep soap scum from building up again.
Problem: Microwave Covered in Splatters
Solution: Mix two tablespoons of lemon juice with one cup of water. Boil it in microwave for three minutes and then let it sit for five minutes and allow the steam to loosen debris. Wipe with damp microfiber cloth.
Problem: Dirty Stove Top
Solution: To clean up a cooking spill on the stove, let it cool first, then remove drip pans or grates. Apply a dollop of dishwasher detergent gel or a paste of dishwasher detergent powder and water directly to the spill. Don't use regular dishwashing soap -- it doesn't cut through cooked-on foods as well. Let this sit for 15 minutes, and then use a damp sponge to check whether it's ready to wipe off. If it's still stuck, add a few drops of water, wait another 15 minutes, then wipe clean.
Problem: Grease and Grime Build-up on Kitchen Cabinet Doors
Solution: Grease and dirt build-up on kitchen cabinets over time. To clean your cabinets, first heat a slightly damp sponge or cloth in the microwave for 20 to 30 seconds until it's hot. Put on a pair of rubber gloves, spray the cabinets with an all-purpose cleaner containing orange oil ($4), then wipe off the cleaner with the hot sponge.
Problem: Candle Wax Melted on your Carpet
Solution: Take an old rag and place over the wax. Put your iron on a relatively light setting and place the iron on top of the rag. The wax will melt and will be sucked into the rag. Change or move your rag according to how big the spill is and how much wax there is to be absorbed.
Problem: Broken Glass in Dishwasher
Solution: Turn off lights because shards should sparkle. Halve a raw potato, put on gloves and dab glass. Then, run an empty cycle to flush out small pieces.
For more information visit
squaredaway.com
.