Deals Episodes
Tips for Pairing Necklaces with Necklines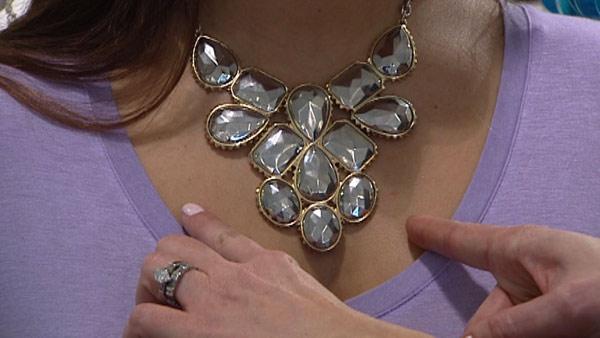 Some of us have a drawer full of necklaces but have no idea how to wear them. Pairing the right necklace with the right neckline can make a huge impact on your look, and you don't have to buy anything new.
"My dresser has these side cabinets and you open them up and there is all this and all this," said shopper Cari Taylor.
Cari is obsessed with accessories. She loves necklaces but is not quite sure how to use everything she owns, so she studies the store's examples. But that may not always work says stylist Rebecca Mathews.
"So they don't understand the proportion between their shoulders, their neckline of their garment and the necklace that they are trying to put on so getting that coordinated is sometimes difficult."
So she likes to follow Charming Charlie's neckline cheat sheet. A guide the accessory giant created to help women choose the right necklace with the right neckline.
Scoop neckline: Rebecca says this is the easiest neckline to work with. You want the major part of the necklace when it is statement like this to fall below the neckline of the top so they don't compete with each other.
The button down: Rebecca says most woman usually keep this look simple, but don't! Add a statement piece. It adds tons of interest to this plain collar so everybody has this in their closet and you can totally transform it by doing a really bold necklace.
V-neck: Stay inside the V of the necklace. Rebecca says don't go long; it will draw the eye down away from your face. So choose a necklace that fills the space. This plain t-shirt looks totally different with the right necklace.
Turtle Neck: Don't pair with a tiny necklace. Instead go with a bigger piece. Rebecca suggests going short or long.
Deep scoop line or ballet top: a long or short necklace will work.
Strapless dress neckline: Fill the space. A big necklace works best. If we didn't wear anything here, she would look plain and droopy.
To print out your own neckline guide, click here.
Due to the pre-recorded nature of this program, some prices may not be current. Please check your local retailer.