Deals Episodes
Throw an Easy, Inexpensive Princess Party for Your Child's Birthday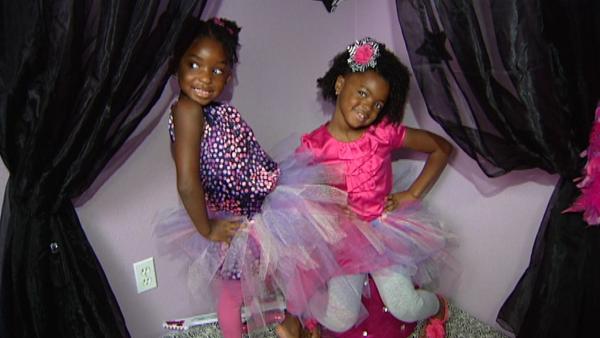 If your little girl loves princesses, here's how to throw an easy DIY princess party for her next birthday. Best of all, it's budget-friendly and loads of fun! Have your tiny princesses make their own tutus and tiaras for a fun party activity and take-home goodies.
What little girl doesn't want to be a princess? But unless you're royalty, being a princess can cost a pretty penny! Melissa Williams, Author of "Little Miss Molly", shares tips on how to throw an inexpensive princess party byt using the character, Molly the Iguana, from her children's book for inspiration. Keep the girls entertained by teaching them to make tutus for theirselves and for their favorite doll, tiaras and coloring pages! This is a perfect idea for little girls ages 3 to 8.
DIY Princess Tutu:
Materials Needed:
Ribbon
Scissors
Tulle in various colors cut into strips of about 2" wide by 2 feet long
Instructions: 1. Wrap the ribbon around the girls waist and add an extra foot before cutting. 2. Show each girl how to tie the strips of tulle on to the ribbon. All you need to do is loop it around and pull. Have the girls tie the pre-cut tulle on the ribbon, putting each piece close together. 3. Do this process over and over until you have a complete ribbon hanging in the back to be able to tie. You don't want your tulle to go all the way to the edges. 4. Tie it around their waist and you have an inexpensive, personalized tu-tu!
DIY Princess Tutu for Dolls:
Instructions:
Hair Tie or Rubber Band
Small Strips of Tulle
Instructions: Pre-cut smaller strips of tulle and do the same process on the rubber band as you did on the little girls ribbon.Once it's full , put it on the doll like a skirt and you have matching tu-tus!
DIY Princess Tiaras:
Materials Needed:
Plastic Tiaras (Melissa bought hers from the Dollar Store!)
Fake jewels
Glue gun
Plastic Curling Ribbon
Scissors
Instructions: 1. Before the girls arrive, hot glue jewels on the tiaras to give them a little more pizzaz. 2.Cut different colors of ribbon into lengths of 10 to 20 inches and use scissors to curl them. 3. Show the girls how to tie on each side of the tiara. For refreshments, think pink! Pink cupcakes served with pink lemonaide is a perfect party treat! For a great party activity, go online and print out free coloring sheets from the web. If you don't already own crayons, grab a few boxes from the dollar store. For more from Melissa, visit
littlemissmolly.com.