Deals Episodes
Store Brands Ins and Outs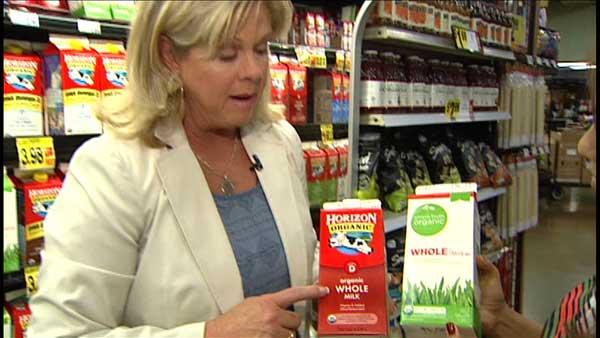 People are always wondering about the difference between store brands and name brand products. Teri Gault from The Grocery Game helps us sort it all out.
"The best way to save on money is to be an investor - buy before you need it when it's a great deal," she says.
When they're on sale, Teri says, store brands are a steal! "Now the caveat would be, sometimes the name brand will go on sale and if the name brand also has a coupon with that sale it will often times beat the store brand," she says.
When it comes to taste, Teri says you shouldn't tell a difference.
"The Food Marketing Institute has been doing a lot of surveys on store brands because they have been big sellers," she says. "No longer do we call it generic because it's not this plain, wrapped, labeled thing. It has the store's name on it and they take great pride in it - in the quality and taste is really nice on a lot of the store brand foods."
If you're not great at planning ahead like me, Teri says store brands are the way to go.
"If you're out of it and need it, I call it need shopping, that's when you spend the most, that's a good time to turn to the store brand because even if it's not on sale it's going to be a good price," she says.
Teri says milk can get expensive and it rarely goes on sale.
"If you're looking to buy organic milk because you don't want the hormones - if that's you're only thing you don't like about conventional milk, most of the store brand milk now pledges to be free of the RBST growth hormone," Teri says, "so it's not organic, but it's the next best thing."
For basic grocery items like oatmeal, Teri says choose the store brand.
"So here we have a store brand and a name brand and the store brand is a dollar less for the container - quality should be almost undetectable so basic groceries go for the store brand," Teri explains.
But keep in mind, all store brands are not created equally! Teri says there are often-times different levels of store brands - the higher quality with more real ingredients than what you might call the generic version. Beware of shrinking groceries.
"You've heard of shrinking groceries, things are getting smaller and we're still paying more in most cases," Teri says, "Store brands, a lot of them, have not yet shrunk."
For example, Teri shows us a name brand orange juice at 59 oz compared to the store brand at 64 oz. She says it happens in pasta sauce too, 24 oz of name brand pasta sauce versus 26 oz in the store brand.
We all know organics can get quite pricey, but Teri says whether name or store brand - organic is organic!
"If you're buying organic, USDA certified organic is going to be the same in the name brand as it is in the store brand, same standards, same rules, so here we would be paying a $1 more for name brand for really no reason the store brand should be just as good," she said.
For more information on Teri Gault or The Grocery Game, Click here: http://www.thegrocerygame.com/