Deals Episodes
Spring Fashion on a Budget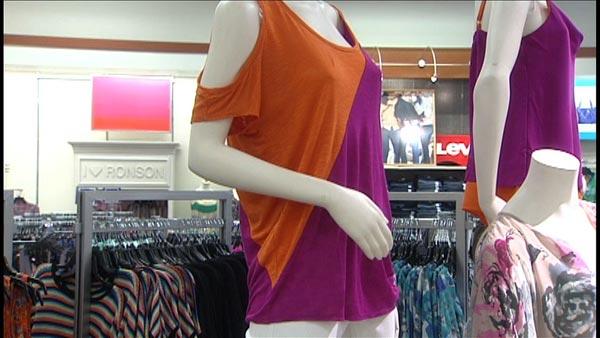 Bold colors, floral prints and neon are just a few of the hot fashion trends this season. Fashion magazines have some great pieces for hundreds of dollars but we found the same look on a budget.
Before you spend your money on a bright and bold color blocking top -- you might want to think twice about the trend.
"I think someone with my frame, I think prints would soften me up," said Kevelyn Chandler, shopper.
That's why stylist Stevie Bingham says before you purchase the hottest look of the season make sure you feel comfortable wearing the trend.
"It is proceed with caution," said Stevie.
Since color blocking is one of the biggest trends of the season, you can find it in most everything. We found a more subtle look with this $20 tank from JC Penney. If the top is still too much for you, we also found $35 color blocking shoes and a necklace for $25.
"That's a great way to do that trend," said Stevie.
Another hot trend for the season is the color tangerine! It's everywhere.
"If you don't want to use it head to toe, I would definitely use it with a chocolate brown or a white," said Stevie.
Another example, is to buy a top with a bit of orange without being over the top or you can even use the color in a necklace, like the one Stevie found at a wholesale shop for $12.
If you love being bold -- then neon might be the look for you. We found dozens of examples at reasonable prices.
"It is pretty bold, it is a pretty brazen trend," said Stevie.
Other colors that are on trend for spring but can be tricky -- the color mint green!
"If you don't feel comfortable in mint green, don't wear mint green."
Stevie suggests you choose an accessory, like a $40 mint green hand bag, if you are not sure the color suits your skin.
"Color is really big this season, but it's almost so far on both spectrums. You are going to see bright, bold, neon's, then you are going to see lots of pastels. Everybody can wear it, you just have to be able to find that specific color for you and what feels comfortable for you," said Stevie.
Other trends that are easier to wear, include kimonos. Stevie says this is a care-free style that anyone can pull off.
Floral printed dresses are also a top pick, with so many patterns there is one to fit your body type. And finally metallic heels are also trending this spring. Stevie says this is worth a splurge because the color never goes out of style!
A couple other trends for the season, include tribal prints and eclectic accessories. And, of course, the key to not being trendy and over the top is to not wear three or four trends all at once.