Deals Episodes
Shopping For Groceries Online Can Save You Cash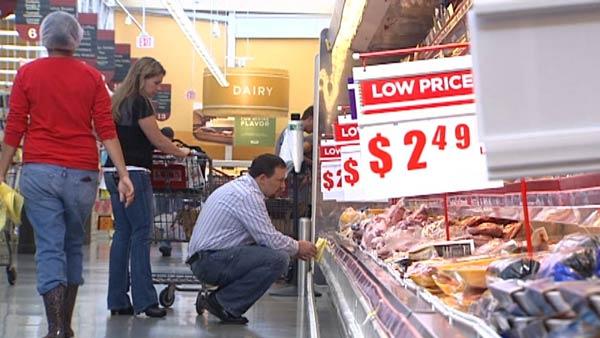 If you're trying to find a way to save on groceries, you may want to think about shopping online. It could save you time and money.
No crowds, no lines and you can even shop in your pajamas. One mom says shopping online for groceries, diapers and toiletries is not only more convenient, but it's usually a significant money saver.
If anyone has found a way to pinch pennies, it's the Ivanoskys. With seven kids, they are always on the hunt to find the least expensive option. Shopping for groceries on a budget is a must and while they do stop in at traditional grocery stores, a bulk of what they buy is online.
"I don't have to drive. I don't have to spend the gas. I don't have to try to park," mom Tiffany Ivanosky said. "I can be more particular. I can get exactly what I want and I can get it delivered directly to my door just a couple of days later."
Their favorite online site for groceries is Amazon.com. Some the recent bargains they scored include 10 Kraft's Zesty Italian Dressing bottles for $10.
"You can get them 10 for $10 at Kroger but it's every now and then, but I mean, free ship free to my door?!" Ivanosky said.
Special K cracker chips are normally $2.59 at the grocery store; Ivanosky found them online with free shipping for $2.
If you are looking for a better deal on specialty products, Ivanosky says there are bargains to be found.
"If you are on any kind of special diet, especially something like gluten-free or you just like special products, shopping online can save you a ton of money," she said.
For example, Bob's Red Mill gluten-free flour at Walmart costs $5.98 per pack. Online at vitacost.com, the price is $2.54 -- a savings of more than half off.
And it's not just groceries. Many toiletries are cheaper to purchase online.
Ivanosky purchased 12 packs of Pampers wipes for $7.68. One pack at the store normally retails for $2.28. That's a savings of almost $20.
Scott toilet paper at Walmart is 45 cents a roll. On Amazon, it's 32 cents a roll.
Not everything is a bargain, but Ivanosky says it's usually pretty close to retail.
"The prices are really either the same and a lot of time less than what you pay at the store and it's so convenient," she said.
And you can use coupons on Amazon.com that you can virtually clip from their coupon website. But there is one goal with online shopping -- to look for free shipping.
"Really what you need to look for is free shipping. That makes all the difference and most places have it now," Ivanosky said.
To save even more on Amazon, you can join for free to Amazon's "Subscribe and Save." You will get free shipping on that plan, but keep in mind, you will have to manage your account because your items are automatically shipped and charged on a monthly basis.
Ivanosky says she also finds good deals online for drug store makeup.
For high-end items, though, she doesn't find many sales. However, she always get free shipping and a bonus gift with purchase.
For more information:
mylitter.com
iheartthemart.com
Amazon.com
vitacost.com