Deals Episodes
Seven Yard Sale Secrets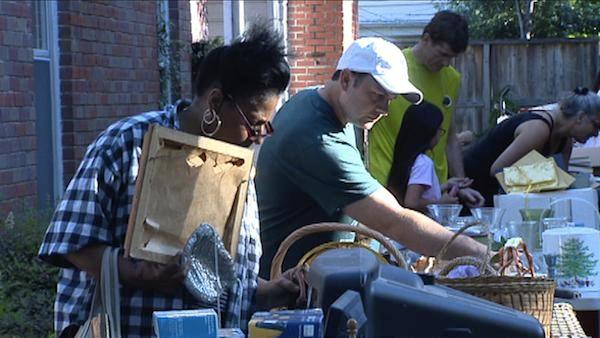 Having a garage or yard sale this summer? Here's what you need to know from a garage sale expert so you can clear out your clutter and make the most cash.
Yard sales are a great way to make extra cash if you know what to do Here are seven secrets from a garage sale expert to make the most money selling all your old stuff. Ben Weissenstein started 'Grand Slam Garage Sales' when he was just 14 years old. "My mom had a garage sale in 2004 and I helped out," says Ben. "I've always been an entrepreneur and she said you know you could really make money doing this and help a lot of people." Now 21, Ben runs garage sales for other people and definitely knows what works. Here are his tips on how to have the best garage sale:
1. Get Organized.
First step in having your garage sale is to organize. You might even want to start a few weeks ahead of time and pile up "garage sale" items in one room.
2. Hot Ticket Items: Clothes, Electronics, Tools, Paint
While there may be the obvious "hot ticket" items, like electronics or tools, Ben say you never know what someone will buy, so put it all out there! "Things that you think will sell don't sometimes. Things that you think won't sell do. I mean sometimes you can sell a leaf off a tree. you never know who is coming to the sale," says Ben.
3. Don't put prices on items.
Ben says don't waste your time or money putting stickers on every item you own. "Don't put prices on anything because if you do you are stuck to that price. So if there's a five dollar sticker on an item, it's five dollars. But if you don't have a sticker you can say eight dollars and work your way in between maybe get six or seven dollars. Point is you'll definitely make more money by not putting stickers on anything," says Ben.
4. Get the word out with signs and online.
You've got the stuff, now time to get the word out! Put up signs in the neighborhood and reach out online. Ben recommends websites like craigslist.com and backpage.com. The websites are free to use and have become a big resource for people who go to garage sales.
5. Make sure to properly display your items.
Now the big sale day! Ben recommends putting like items with like items. For example, glassware with glassware, clothes with clothes. Put your "best" items, like furniture, clothing and electronics, up front for people to see. He also often displays items on blue tarps. Make sure there's always a pathway for people to easily get through.
6. Little details matter.
To have the best chance of selling things and get better prices, clean things up before the sale.
7. Be prepared to haggle and bargain with customers.
Ben recommends bunching items together. "So what we will do is we will be like that is 5 dollars, I'll throw that in for another two dollars and give you that for a dollar and that kind of thing," says Ben. "You are throwing in a few extra items and cutting off a few dollars here and there." Whether you hire someone like Ben to run a garage sale for you, or run your own, having a garage sale is a win-win when it comes to extra money and organizing your home. "You get to get rid of all your items. It's huge. No one wants to have all that extra stuff around their house. At the same time you are going to make some money," says Ben. "And you meet a lot of cool people. There are a lot of fun people that come to the sales - interesting people. Fun people." To see more tips check out Ben's website,
GrandSlamGarageSales.com.