Deals Episodes
Savvy Online Shoe Shopping Tips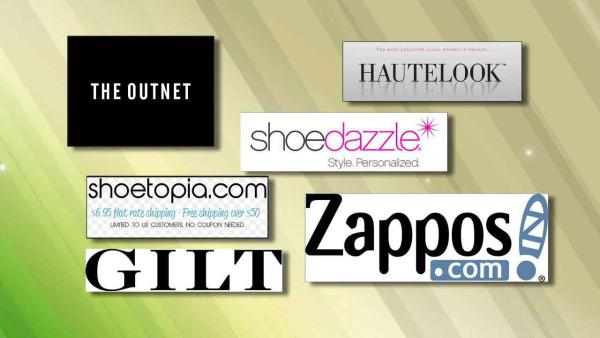 Who doesn't love shopping online? Especially for shoes! But with so many websites out there, how do you determine which shoe site fits your needs?
Online Savvy Shopper, Ashley Small breaks down a few of her favorites. "For a woman on the go, we don't have time to go to multiple stores. Online you can aggregate all your favorite stores, your favorite brands and get that all at once and choose your favorite shoes" says Ashley.
For those looking for high-end designers but can't afford the retail price.
Shop by occasion or by outfit.
Average price point is $500; but the average saving are 50% to 75% off retail.
Create collages and style your shoes to match your wardrobe.
You can sign up for daily giveaways.
HAUTELOOK.COM
Daily sales for a limited time and limited inventory starting at 8 a.m. PT.
Free to join, free membership.
Up to 75 percent off designer brands.
High-end and low-end brands, something for just about any budget.
GILT.COM
Average price point is $175.
Savings up to 75 percent off.
When you become a member, you get automatic alerts when your favorite items go on sale.
Refer a friend and save $25 off your next purchase; and so does your friend.
Integrate it with your social media and get opinions from your Facebook friends and Twitter followers.
SHOEDAZZLE.COM
Founded by Kim Kardashian and Rachel Zoe is the stylist.
When you sign up you take a "style quiz."
Pay $39.95 a month and you get a custom shoe sent to you each month based off your personal style from the quiz.
Another advantage is "Today's Fix"; which is a 24 hours limited sale on special products.
You can, of course, shop outside of your custom shoes as well.
ZAPPOS.COM
Offers low-end and high-end shoes.
Average price point is $35.
Free shipping.
More than just heels, they offer all types of shoes.
If you are looking for running shoes, they have a "Fit Guide" to determine what's best for your foot.
SHOETOPIA.COM
For the real bargain hunter!
Accepts PayPal.
Don't have brand names listed on the site; just product descriptions.
Average price point is $20.
For women and girls.
Some shoes are as low as $5!
WARNING!
It goes without saying, but anytime you shop online, do a little research before committing to and signing up. Be cautious before giving our your credit card information or your address. Know the shipping rules and return policy and read reviews of the site.
For more information visit www.medley-inc.com.