Deals Episodes
Paint Projects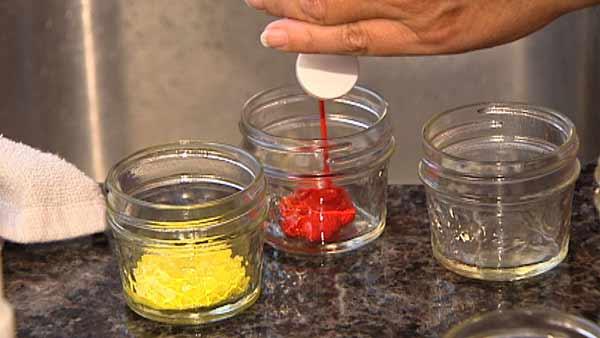 Home Depot's Cindy Clotheir says paint, in any form, is one of the least expensive ways to add new life to existing rooms and furniture or to create new projects!
Using paint, Cindy transformed a $10 nightstand purchased from the thrift store.
"You literally spray it on, wait 5-10 minutes and then you can start scrapping it," she said.
After sanding it down and priming, she added a pretty green paint.
"What we're going for with this table is a French country effect," Cindy explains. "You just go back over with a clean dry cloth and go through and wipe, it's going to give you that tonal fade on fade look and you can do this a couple of times."
For the top, Cindy goes for a crackle look. Start by painting sealer over the entire top surface. Once that dries, add the crackle.
"You can brush this on or you can put this on with a knife, for this table I think we're going to brush this on," Cindy says.
The materials cost $6 which brings the total cost of the table to just $16!
Instead of using just one color, layer three different colors of spray paint, spraying on the inside of the vase.
"Then you mix up in a spray bottle a ratio of 2-1 distilled vinegar and water and it's the acid that's going to create the pickling," Cindy explains.
Once you spray your vinegar water, let that sit for about five minutes before wiping off.
"You want to go in and with the pads of your fingers so that you start to get a bit of a lift," she says. "We spent $5 each for the vase and spray paint for a total of $10!"
With so many different types of paint on the market, Home Depot's Cindy says you are only limited by your imagination.
Three projects can be created for under $150.
The first project is a simple activity table made from scratch by the Home Depot. Cindy likes using foam brushes to get even, streak-free strokes.
Paint each leg in primary colors. For the top, use Dry Erase Board paint! Paint two coats and in about an hour it's dry and ready to use!
Our next project: Magnetized Chalkboard. You can paint it right on the wall, the magnetized paint first and then the chalkboard paint.
Finally, curtains using canvas drop cloths.
"All of the edges are already finished, all you have to do is measure the windows double the width for each panel and that's going to give you nice hang to cover your windows, you just cut away the rest," Cindy explains.
"On your cut edge, iron a nice neat seam and then what we're going to do put the new sew tape on top of this then fold it over and make a nice iron crease and you have beautifully finished drapes ready to hang up."
To decorate the curtains, use acrylic paint. Dilute it with a few drops of water to make it easier to use. Then just splatter it all of the curtains.
You will want to take this project outside.
Here's a breakdown of what was spent:
DROP CLOTH - $10
ACRYLIC PAINT - $6
ROD - $19.97
RINGS - $7.97
DRY ERASE PAINT -$19.98 (COVERS 12 FT SPACE)
PAINT FOR ACTIVITY TABLE - $12X4=$48
CHALBOARD PAINT - $13.47
MAGNETIC PAINT - $19.98
TOTAL = 145.37
Special thanks to Home Depot. For more information visit homedepot.com
Due to the pre-recorded nature of this program, some prices may not be current. Please check your local retailer.