Deals Episodes
Old Window, New Look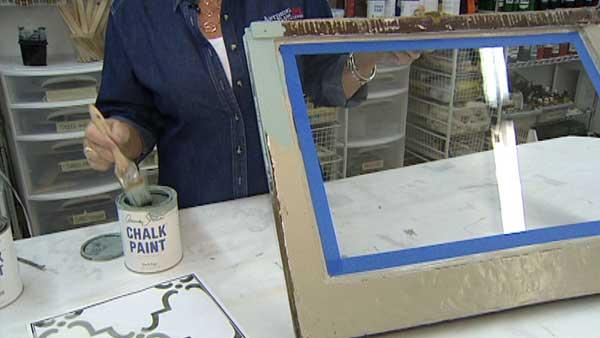 Do you have an old window laying around? Maybe in grandma's attic or in the garage? Don't worry about how grungy it is -- that will add to the beauty in the end. Janie Ellis, with Anything But Plain gives instructions on how to turn an old window into a beautiful white board!
SUPPLIES:
Window with wooden frame
Annie Sloan Chalk Paint (Why chalk board paint? It covers just about ANYTHING!)
Clear Wax
Stencil
Painters Tape
Paint Brush
DIRECTIONS:
1. Take 1 window with wooden frame, wash frame with soap and water, clean the glass.

2. On the front side paint the wooden frame with "Annie Sloane" Chalk Paint, let dry. Don't worry about how shabby the window condition is.

3. Turn the window over and tape stencil down. Paint over the stencil design on the glass with "Annie Sloane" Chalk Paint, in any color, let dry.

4. Paint over the design with a contrasting color of "Annie Sloane" Chalk Paint, let dry.

5. Turn the window back to the painted frame side and use clear wax to seal in the Chalk Paint. This will prevent chipping.

6. The window is finished. Take a white board marker and write on the front of the window. Design will show thru from the back. This can be used as a functional decorative piece in any room.
For More Information:
Janie Ellis, Anything But Plain Decorative Painting Plaster Studios
www.anythingbutplain.com