Deals Episodes
Nail It: DIY Long-Wearing Polish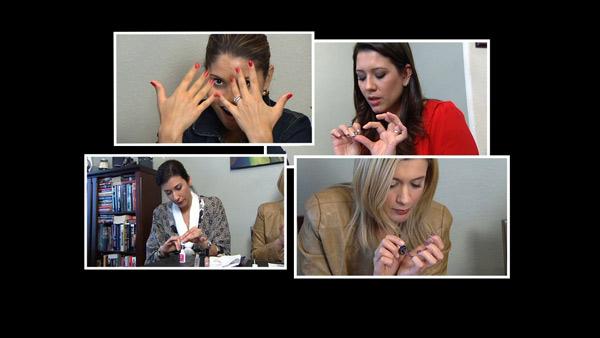 Long-wear nail polish has gone main-stream! You no longer have to go do the salon or shell out $30 or more to get those polishes that will last up to two weeks or more. We narrowed it down to four different brands and types of long-wear products to try out.
Sally Hansen Complete Salon Manicure - $7.99
The Sally Hansen was the easiest since it's just one step. It has a base coat, strengthener, growth treatment, color and top coat all in one!

Live Well Network's Rebecca Spera, host of Mirror/Mirror, tried it out and says it was easy to use and dried very shiny. After four days it started chipping. Overall, Rebecca was happy with her results and says it lasted much longer than her usual at-home-manis.
Jamberry Nail Shields- $15.99
The Jamberry Nail Shields were a bit more work! You have to follow the steps -- cleaning, shaping, buffing nails then swabbing them with nail polish remover or alcohol before you even begin the process. Once that's done, you have to warm the stickers for 10-15 seconds and then apply to your nail. Once that's done trim, shape, file the sticker and add more heat to seal it to your nail.

Deals producer Tiffany tried this out and it took her about 45 minutes to finish all 10 nails. She loved the color, she tried a beautiful chrome, and had plenty of stickers left to do all 10 fingers again. After five days she experienced lifting on most of her nails and had to remove them, which is also a bit of a process. To get the nail shields off you do need a blow dryer. However, after applying the stickers, she found additional instructional tips that may have helped extend the wear -- like using tweezers to hold the stickers when heating and using nail clippers to cut to the appropriate length.
Nutra Nail 5 Minute Manicure - $14.49
The Nutra Nails five minute manicure takes three steps. First you apply the activator, then the color.

"The trick to this, after you paint your nail, dip the brush in cleaner, then wipe off on the paper towel and dip back in the color," says Mirror/Mirror producer Sabrina. By the time she finished her first hand Sabrina says all her nails were dry! Sabrina got her first chip five days in, but stretched it to seven days before taking it off. She says the neutral color helped disguise the chips!
Haute Polish LED Manicure - $79.99
The LED Haute Polish was the most expensive; however it's the same price as getting your nails professionally done twice. So, if you like it, it could be a great investment. This is also a three-step process. You start by cleaning your nails with a wipe included in the kit. Then paint each nail and dry under the LED light provided for 60 seconds. Kat Cosley tried this one and ended up doing three coats instead of the recommended two. Overall, she loved that it was dry in a matter of minutes. The polish was shiny and looked like she got them done at the salon. The only thing she didn't like was it left a small white ring around the tips of her nails. It almost looked like the polish shrank under the light. As you all know, Kat does quite a bit of DIY projects. Her polish lasted a week, but after working on a project with fabric glue, it started peeling. She also loved how easy it was to remove. Gel polishes she has tried in the past had to be removed at the salon and left her nails brittle and thin but this did not.
Remember, these were just our result, we only tried the polishes out one time and depending on your lifestyle you might have a much different experience.
For more information on the products used: