Deals Episodes
Moms Working From Home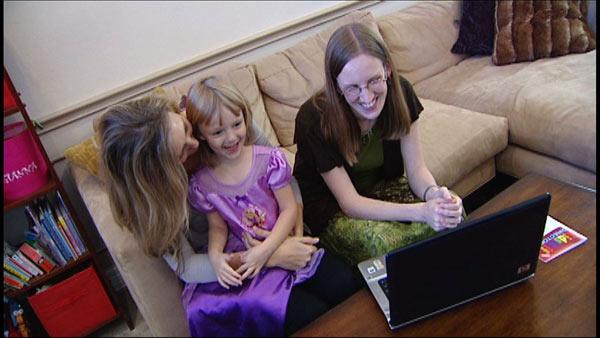 Many mothers are tending to their kid's needs and working from home.
A busy day, taking care of a new baby and meeting the needs of an energetic three-year-old wasn't enough for Lori Carrese. She is also working fulltime... FROM HOME!
"I don't feel like you have to give up. You don't have to give up your goals and being a mom and trying to stay at home with your kids and you also don't have to give up your professional image," said Carrese.
Founder of the company "Mommy Gateway," Lori helps other moms find jobs that allow them to also stay at home with their kids.
"What inspired me to start Mommy Gateway working with moms, being the organizer of a local mommy group and watching the message board. I saw on the message board that moms were really craving information," said Lori. "I just started playing matchmaker in a way with the business community and moms."
With help from Lori, Ashley Musil started her own business - the "Kid Stuff Directory"
"It's a guide for parents to find local businesses and events and resources for their families.
Ashley also does freelance graphic work.
"It provides another source of income for me," said Ashley, "Working from home has given me the opportunity to watch my kids grow up. They get to see me working and they get to experience my business from a side that most kids don't get to."
Jennifer Levy is married with two kids. She's also a real estate agent. Jennifer quickly learned how to fit work into her schedule.
"Normally a lot of my work will get done after nine. People will say , 'Oh I need this from you. I'll say that's great I can get it to you today but it will have to be after nine tonight," said Jennifer. "What has really improved my life is the courage to know that I can do something -- that I can still make a contribution to the family income."
Jennifer says Lori helped her figure out how to make it all work.
"She does an amazing job to help people make connections. I think that is her passion to bring women together and to encourage them to pursue their interests and to support each other," said Jennifer.
The first step in becoming a "mompreneur," as Lori calls it, is to find out what you like.
"Focus on your passion. If you focus on your passion, you are going to have success," said Lori. "You can sell anything if you are just so excited about the concept."
Then, get clicking. Join "mommy" blogs, and networking websites to connect with other women in your community.
"As a mom networking is different than as a business person. We get together in our little play dates and our groups and a lot of time we talk about our businesses," said Lori.
Lori says, be sure to set clear goals and guidelines.
"Don't take on more than you can handle. Give yourself a schedule, give yourself a budget and also make sure you are able to stick to a plan. So if your schedule is you can work 2 hours a day or 10 hours a week. Be up front with your customer and let them know what your environment is about -- that you may have interruptions," she said.
And, these women say working from home has brought in extra income and something else money can't buy.
"It's reinforced my confidence, my self esteem," said Jennifer, "knowing running a business is something I can move forward with."
"I didn't miss a first step, I didn't miss the teeth coming in, learning to walk, learning to crawl and speaking. I didn't have to miss those moments," said Ashley.