Deals Episodes
Make Your Own DIY Dog Toys and Puzzles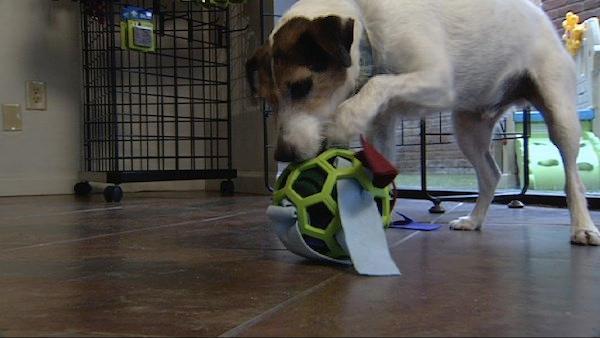 There are a lot of great dog toys on the market that are not only fun, but can actually make your dog smarter! While they can be expensive, here are some great DIY versions of popular dog toys to save you money.
Certified Dog trainer and owner of Peace Love Dogs, Stephanie Bennett, says you can increase our dogs' intelligence and problem solving skills with a number of challenging puzzles at her store. But they do come at a price. So, Stephanie made her own variation of DIY brain teasers using inspiration from the higher price items in the store. Here are Stephanie's favorite dog toys and her DIY versions:
DIY Bob-A-Lot Dog Treat Toy
This fun treat puzzle costs $30 retail. Put treats or food in, screw the top back on and shut the chamber door. The door is adjustable depending on how difficult you want to make the game. To goal is to slow down their eating and use their brain to understand how it works. Here's how to make your own version for nothing:
Materials
Empty plastic peanut butter jar
Drill with wide bit
3 toilet paper rolls
Dog treats or dog food
Directions
1. Drill a hole on each side of plastic peanut butter jar that's biig enough for the food and/or treats to get out. 2. Put 3 toilet paper rolls inside the peanut butter jar to create the puzzle. 3. Add dog treats or dog food. 4. Screw on the lid. They'll roll the jar around and work to get the treats out!
DIY Hide-A-Bee Squishy Dog Toy
For dogs who like squishy toys, the Hide-A-Bee by Krygen is great, but costs about $20/ The point of this toy is to get your dog to take out all the bees of the holder. There are squeaky toys in each bee. Here's how you can make your own toy that does the same thing:
Materials
Chewable ball with holes (they sell these at most pets stores for about $8)
Felt (or old t-shirts, old shorts, any fabric will do!)
Scissors
Dog Treats
Directions
1. Cut the felt (or any fabric) into long strips. 2. Wrap fabric around the dog treats. 3. Stuff the fabric in the ball. Your dog should go crazy trying to get to the kibble while pulling the fabric out.
DIY Squishy Face Pole Dog Toy
This is one of Stephanie's most popular toys, because one of the most difficult things for people to do is wear their dogs out. It's very, very sturdy. This thing is just not gonna break no matter what you do. What's really great is that this rope is elastic so it goes back and forth, and then we get a nice tug toy here at the end , it even has a squeaker in it. The other thing that's really great is that eventually everybody knows your tug toy gets disgusting and gross and covered with saliva. So they designed it so you can easily slip this off, and then replace your tug toy with something new. You can actually wear your dog out in about ten minutes with this. It costs about $30. Here's how to make a cheap alternative to this toy:
Materials
PVC Pipe
Rope of any kind
Tug toy
Directions
1. Cut PVC to length you need for your dog's size. 2. String rope through PVC pipe leaving enough slack to tie to PVC pipe and to tie tug toy. 3. Tie a tight knot around the PVC pipe with rope. 4. On the other end of the rope/PVC pipe, tightly tie a tug toy. Here's where our DIY version isn't as great as the real thing - once that tug toy gets yucky, you have to cut the rope and tie another one to it.
DIY Dog Brick Puzzle Food Toy
If you have a dog that eats too fast, a trick to slow them down is using a puzzle. They have to learn how to take plastic puzzle pieces out of the tray to get to the food. It's a pricey item because it's a very durable puzzle. Here's how to make your own dog food puzzle:
Materials
Muffin Pan
Tennis Balls
Kibble
Directions
1. Distribute your pups meal allotment in the muffin trays. 2. Put a tennis ball in each tray. Make sure the tray isn't too deep for them to get the ball out. 3. Watch them learn to remove the ball to eat their food. It slows them down while making them use their brain!
DIY Fun Ball Dog Toy
It's a puzzle for dogs who like to play fetch. It is very durable and a great chew toy. There are holes on either side so you can stuff the ball with kibble. Here's how you can recreate this at home:
Materials
Tennis Ball
Drill
Scissors
Dog food or treats
Directions
1. Drill holes on both sides of the tennis ball. 2. Use scissors to cut off excess felt and rubber the drill may have created. 3. Fill with treats. Throw and watch your dog have fun playing fetch while searching for treats as well! TIP: If your dog doesn't understand how these toys work right away, try to add a treat that has a strong smell. We used Lamb Loaf. The price was $7.99 and you can get it at any pet store. It will make them work harder to figure out the puzzle. In addition to mentally challenging your dog, these toys and puzzles help keep them busy and out of trouble. For more from Peace Love Dogs, visit
PeaceLoveDogsHouston.com.
For more from Pet Talk Magazine, visit
houstonpettalk.com.
To purchase these pet toys, visit :
Bob-A-Lot
Hide-A-Bee
Squishy Face Flirt Pole
Dog Brick Puzzle
Fun Ball