Deals Episodes
Make Money Selling What You Already Own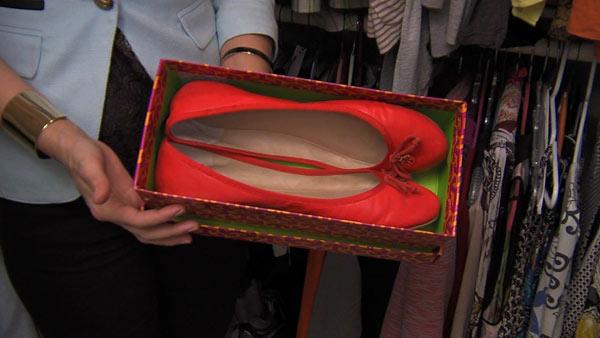 The average woman has $6,000 in sellable items just sitting in her closets, collecting dust. Sell it online and reap the rewards! Websites like Tradesy can net you quick cash by selling what you already have.
"We see that the average woman has $6,000 hiding in her home that she doesn't even know she can make money for," said Tracy Dinunzio, founder & CEO of Tradsey.com. One of the quickest ways to get money in your hands is by selling your items online. "What we do is make it fast, easy and safe for people to sell their fashion," she said. "Listing an item takes 60 seconds or less. We clean your photo, make it look really professional," she said. "We take care of shipping so you don't even have to leave your house and we manage returns." Deals put Tracy to the test by sending her to Tradesy user Laureen Lucus' house. Starting in the closet, Tracy finds a Black Halo dress, which is a popular brand right now. It retails for more than $300 in stores and Tracy says Laureen can get $175 by reselling it on Tradesy. Here's what else she found:
JCrew Bridesmaid Dress: Retail $150, re-sell value $75 dollars.
Cat Dress: Retail: $100, re-sell value $50
JCrew sweater Retail: $80, re-sell value $40
Tory Burch Flats Retail $250, re-sell value $125
Tom Shoes: $40, re-sell value $15
Tory Burch Handbag Retail $300, re-sell value $125
Dooney & Burke Handbag- it's a classic style from about 15 years ago. When items are more than 5 years old, Tracy says, it can be hard to sell them, but once they become 12 - 15 years old they are retro and it's young and hip and there's a real market for them. She says Laureen can get $20 for it.
Luis Vuitton Handbag: Retail $1500, re-sell value $500
Ray ban Sunglasses: re-sell value $80 (Tracy says sunglasses usually sell for 30-40 % of their retail price.)
Coach Laptop Sleeve: Retails $150; re-sell valuel $90
Tracy says be sure to check other rooms in the house as well like the bathroom. Sell a set of nail polishes and you can get about $12 for it. Makeup bags can resell for about $8 and even makeup samples, for about $10. Laureen even raids her husband's closet and finds a scuba jacket, worth about $200 and a flute which can be resold for about $400. In the Kitchen, Tracy found several cookbooks that can be re-sold for $15 each. In the end Tracy found a total of $2, 644 that Laureen could make by selling items online. For more about selling on Tradesy, visit
tradesy.com.