Deals Episodes
Living Room Makeover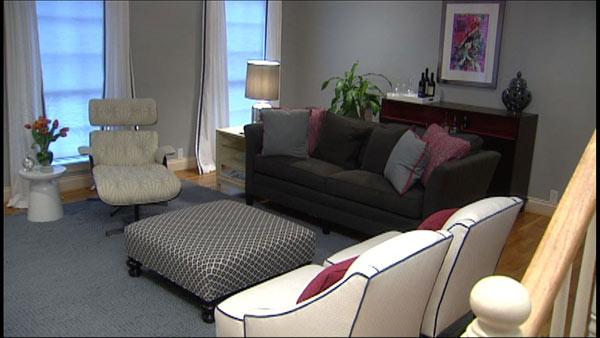 It's a place where you probably spend most of your time -- your living room. But making your space beautiful, comfortable and affordable, can be tricky. Interior design expert Laura Umansky has a few tips.
"Our goal is to create an even better space than they even imagined," says Laura.
Marieke Lahey's living room needed a serious makeover. Her walls were bare, the shelves were empty and the color scheme? Well, there was none.
"I really wanted someone to help me put something together that would come out a million times better than anything I could do on my own," says Marieke.
"We just wanted to create a really comfortable, inviting living room," says Laura.
The changes Laura made is something you can do, too. The number one way to save money is to use items you already own.
"This homeowner had a sofa that she loved and wanted to use so list those things that you definitely want to keep," says Laura. "Those are your foundation, your building blocks and you just build from there."
So Laura spruced up the sofa by adding colorful pillows.
"What I would try to do is have small swathes from the different pieces from your room and try to find a pillow from the texture or pattern that pulls in your entire pallet, because this is where you are really pulling it together," said Laura.
"It gets all of her colors in there, it pulls in the entire color palette from the room, that's why we always like to have a lot of pillows in our budget because they make the room. This is where you are getting your color," says Laura.
Another money saver -- get creative when it comes to artwork.
"It doesn't have to be an original piece of fine art," says Laura. "It's a lot more affordable, it's a lot more cost effective. It's a punch of color so it gives a big bang for the buck."
"I love old musicals like Fred Astaire Ginger Rogers, My Fair Lady and different things like that and just trying to find a piece that was a film I loved and also would look good in this space," says Marieke.
Marieke found a movie poster online and had it framed -- talk about savings!
"If you were to do an original piece of art that's a poster size it can be anywhere from $500 to $50,000," says Laura. "A poster to get a really great looking, good quality, print probably about $50."
Now for one living room staple that you can really spend big bucks on -- window coverings.
"Custom draperies are by far the largest budget number in any budget we build," says Laura. "We bought these from pottery barn and we sourced a really pretty tape trim that we added to the leading sides of each panel."
Laura found pottery barn drapes and added the accent ribbon for just 185 dollars per pair! And, Laura says you can make a room look bigger by hanging the drapes a foot or so above the top of the window.
You can also save big by getting old furniture reupholstered. Check out this vintage "Eames" chair.
"My dad bought it in the 70's," says Marieka. "It was in various stages of disrepair, our dog had scratched up the leather, some of the hardware needed to be fixed and they didn't want to take the time to fixing it."
"We are always trying to find a good deal on this chair and it's impossible," says Laura. "This will run you brand new -- you can buy a replica from Hermann Miller -- it's about $5,000 to $6,000. and up."
"We selected a new fabric that she really loved and updated it and made it work," says Laura.
And, don't feel like you have to go out and buy a new coffee table -- use something you already have.
"A lot of people think that you have to have a cocktail table in your living room," says Laura. "Really this is the place you want to relax and kick back so it's nice to have a soft place to put your feet, you don't have to put it on a hard wood or glass edge. We love to do upholstered ottoman as a cocktail table."
Finally, look around other rooms of your home to see what you can bring into the living room.
"A good way to make a room look complete and warm is to accessorize," says Laura. "And you probably already have a lot of these accessories in your home and they maybe in other rooms you've never even thought about using them in your living room. Try it out, bring books in, you can stack books on a side table and put an alarm clock on top -- just something unexpected."
Marieke put a glass tray that was found at a garage sale, out on a counter top. She also decorated with a $25 vase from Target and a $19 statue that was in her study.
Laura says your living room can look great if you just stick to a few simple rules.
"You would start with first your comfort," advises Laura, "You need your larger pieces, your sofa your lounge chair, you want those to be comfortable and classic. You want something that's a timeless look that will stay with you forever, you can change out those pieces." "You also want to have color," says Laura. "Your main pieces could be more neutral so they work with anything, then you bring the color in your accessories, in your pillow, and art."
For more information visit http://www.laurau.com.