Deals Episodes
Learn to Dress for Success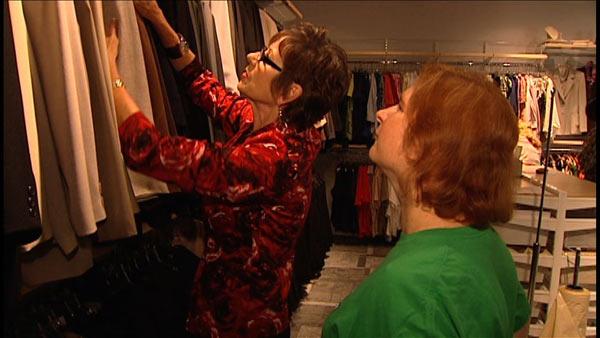 Racks and racks of beautiful name brand suits, rows and rows of shirts and blouses, stunning shoes, handbags and jewelry and all of it is free. Nope, we are not at a high end store, we are at Dress for Success. DFS is a nationwide organization that provides professional clothing and career development to support women.
"Women that haven't been in the workforce for years, they go back and they don't have the proper attire. It's just helping women in our community," said Anne McAllister, Director of Development - Dress for Success, "A client gets a full skirt or pants suit, she gets a blouse, a scarf, a pearl set, a handbag as well as hosiery and closed toed shoes for her interview.
"When our clients first arrive, they may be apprehensive when thinking 'Oh, great I'm going to have to go through piles and piles of clothes.' But the good news is, they walk into this beautiful store and it's organized just like a regular store is with suits are sized, they are hanging by color, they are coordinated by short sleeves and long sleeves we do everything that a regular store does," said personal shopper Phyllis Thomason.
Each client is also provided with a personal shopping assistance.
"I see shy women walk in the door," said Phyllis, "With us giving them one-on-one service, I think at times that is the first time they have ever been served by someone. So, to have one person guiding you through a store that is beautifully organized, I see them lose that insecurity and become more confident as they see themselves more in a way they haven't seen themselves in a long time."
"Everyone knows that when you look good, you feel good. When the client comes to us, we are instilling that confidence boost so they can go on and feel confident and feel empowered when they are in that job interview," said Anne, "There is never a cost to our clients."
"That saved me a ton of money," said Ronda "RG" Roberson, "With the suits that the women donate, it helps not just me but the other ladies that come to the organization for that assistance it helped save a lot."
Ronda "RG" Robertson was out of the work for some time and found it tough to get back in.
"I interviewed for a position with a nonprofit. I was so afraid that I wouldn't know how to get out and present myself because I hadn't worked since 2007," said RG, "When I came to DFS, the volunteer was so nice, she helped me with the nicest suit."
Not only did RG get a job, she recently finished college!
"I graduated! I graduated in May with my bachelors degree after 30 something years of being out of school!" said RG.
"It makes you feel like a new woman. It gives you the confidence to portray someone you might not necessarily be. And the rest of it takes off and you become that successful person," said Jennifer Zoufalik.
Jennifer Zoufalik says Dress For Success was instrumental in turning her life around.
"I was unemployed for a year-and-a-half and was evicted from my home. Very much struggling with life. Coming in for the first time and getting a new outfit... you look confident, you look successful and that really helps."
And, she got the job!!
"I work at the Green Sheet. I'm an accounting administrator. I have been there since 2009, it has been the best job ever," said Jennifer, "I was able to take control of my funds. I have a 401K now and know what it is and what's going on with it. To be able to handle my own bills now, not to have to look for anyone else, not to be struggling from paycheck to paycheck is incredible. For a long time it was very hard to live. Now life is just great. Dress for Success gave me the tools and opportunity to become a successful individual without them I would have been struggling through life I think."
Dress for Success doesn't just make these women look great.
"It's not about just the suits and the money but it's about the personal growth," said RG.
"After a woman gets the job she's able to join our professional women's group. That's our educational branch," said Anne, "Each meeting includes and expert speaker, it includes a moment for them to share their success stories. We also offer services such as financial literacy, our mentoring program, scholarships, and health and wellness component."
Each time the women attend one of these meetings, they can shop again for free.
"The goal after 1 year is to have an entire professional wardrobe at no cost to the client. Once she lands the job she is able to come back to us and get a full suit and blouse as well as five additional separates from our professional women's store. We also offer scrubs to clients going into the medical field," said Anne.
With the help of group meetings, Jennifer has also taken control of her health.
"I also am with the Fit for Success program here, where I've lost 85 pounds and just keep going. It's really changed my life," said Jennifer.
"Coming through the professional women's group it helped me realize the skills I already had and the people I met helped me propel and expand forward," said RG, "Now that I've regained that confidence I'm back out there - I've set my goals, I've reached my goal. And, now I'm ready for my next goal - which will be to go back to school to study for my graduate degree."
You can't just call up a Dress for Success location in your area and walk in for free help. You have to be referred by a nonprofit organization.
"Everything from battered women's shelters, homeless shelters, career and recovery," said Anne, "It's really two criteria: low income and job ready."
A list of the Dress for Success non-profit partners in your city can be found by going to the Dress for Success website at dressforsuccess.org. Each location specifies the groups it works with.
"Eight percent of our inventory is donation based. People can come to our location and donate clothing," said Anne.
"One suit can change one woman's life," said Jennifer.
"Whatever you have just donate it, this is what it can do for you. The outfit I am wearing today is a donated outfit. I really appreciate it and I appreciate it for other ladies too," said RG.
"I feel that Dress for Success is so important because we are helping women work. We are helping women achieve self sufficiency," said Anne, "When you impact the life of a woman you impact not only her but the life of her family and the entire community."
There is a similar organization called "Career Gear" that provides suits to men.
For more information visit:
careergear.org
dressforsuccess.org
careergear.org
Get Social with Deals:
Like Deals on Facebook: facebook.com/DealsTV
Follow Deals on Twitter: twitter.com/Deals_TV
Pin Deals on Pinterest: pinterest.com/DealsTV/
Due to the pre-recorded nature of this program, some prices may not be current. Please check your local retailer.