Deals Episodes
Kids Jobs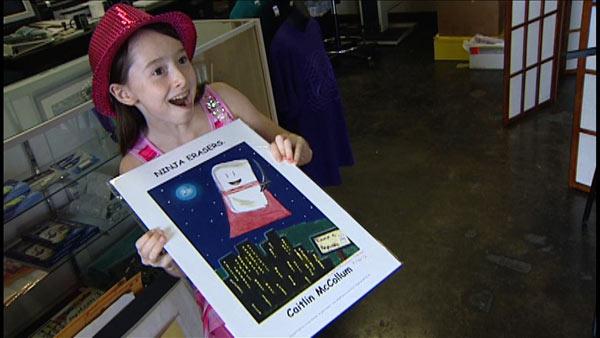 When it comes to making money, starting your kids off early can really set them up for good things in the future. Here are some ideas from a few young entrepreneurs. These kids have found creative ways to make their own money.
Caitlin McCollum's creative imagination and knack for drawing led her to create the "Ninja Erasers" story line and art series.
"I was really bored, so I drew a face on an eraser and pretended like it was a ninja. And Caleb, a boy in class with me, started whacking it with a pencil and that's how it started -- Ninja Erasers. And the pencils are the enemies. After I drew my first one, we made it a whole comic strip. It was really my mom's idea to sell it because I thought you had to be a grown-up to do this. My mom told me you don't have to be a grown up, you can start now," says Caitlin.
Caitlin sells her art at shows and online.
Matthew Pompa sticks with a time-honored money making tradition for teenage boys -- mowing lawns.
"I thought it was a good idea to earn some extra money so I decided to do it. I just saved the money. Put it in my wallet, put it in the bank. When I was 12 years old, that's when I probably started. I don't like spending my money on something I really don't need. I'm trying to buy a new car, one year later I'll be 16. My parents didn't give me money, so I had to go out and earn my own," says Matthew.
Financial adviser Lavera Prestage agrees. She says there are a few simple rules when it comes to helping your kids earn money:
1st - Start early:
"If you give your child a bank account and say here is your money many times they don't know how to handle it. But if they are able to handle money early when they are on their own they should do a very good job. it is important to understand that our kids start spending our money very early, so they need to understand how it works."
2nd - Help them discover their skill sets:
"We have the ability to earn money with our bodies, so if there are projects that we can do that we would not normally do it's an opportunity to earn money and we can use that to our advantage. Any talent you have could be turned into cash."
3rd - Establish rules:
"Rules for spending, rules for saving, for sharing. As early as they are able set up a bank account so they can learn to manage those dollars as well. We do need to teach them not only how to use money but how to use it wisely."
"It's a skill you are going to need all of your life. The earlier you start the more successful you will be," says Lavera.
For More Information:
Get Social with Deals:
Like Deals on Facebook:
facebook.com/DealsTV
Follow Deals on Twitter:
twitter.com/Deals_TV
Pin Deals on Pinterest:
pinterest.com/DealsTV/
Due to the pre-recorded nature of this program, some prices may not be current. Please check your local retailer.