Deals Episodes
Kids Healthy Choice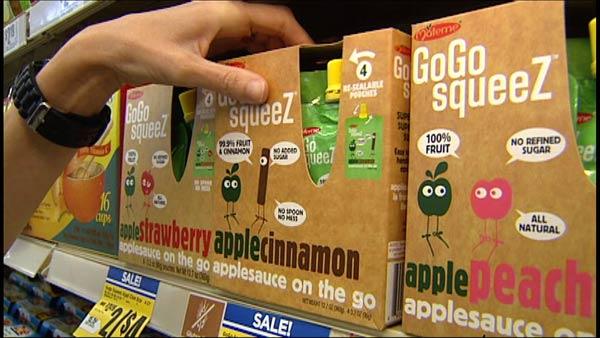 Many times it is expensive to get foods like fresh vegetables and whole grains into your child's diet, but here is the answer that you can afford.
Registered dietician Catherine Kruppa went to the grocery store with a task - find fun, healthy food kids will eat and at less than 50 cents per serving!
Her recommendations:
Goldfish bread: Full of fiber with 3-4 grams per serving and 100 percent whole wheat, the Goldfish bread is $2.98 per package, or about 37 cents per serving.
Gogo Squeeze: It contains 99.9% real fruit. There are no added sugars and 45-50 calories per serving. Also includes vitamins A, C and E. Gogo Squeeze is 25 cents per serving.
Apple and Eve Elmo Juice by Fruitables: Made with fruit and vegetables in a 4-ounce serving size. They have vitamins A, C and E included in them and are just 25 cents per serving.
Chobani Greek Yogurt: Low in sugar, high in protein with 8 grams per serving, this delicious yogurt comes in different flavors such as honey, banana and raspberry, and is a mere 50 cents per serving.
Alexia Sweet Potato Puffs: Full of vitamin A and low in fat and you bake them in the oven. Found in the freezer section, each serving is 30 cents.
Kashi Berry Blossoms: Includes 7 grains that are in all Kashi cereal. Full of blackberries, blueberries, strawberries and raspberries, this cereal contains 5 grams of fiber, only 7 grams of sugar, and each serving is 30 cents.
For more nutrition tips from Kruppa check out her website: http://adviceforeating.blogspot.com/