Deals Episodes
Jewelry Box Diving Creates Fashionable Looks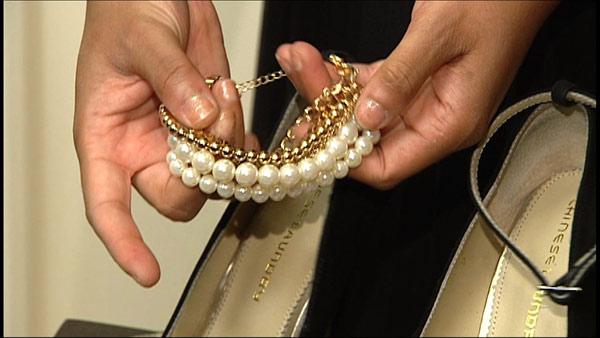 Strapped for cash, Kristen Turner says she had to get creative to keep up with her fashion loving ways. So she started crafting, and created a website loaded with DIY projects.
"I put a holding freeze on all of my spending but I still wanted to be trendy, still wanted to be fashionable. So that's where I started making things and coming up with designs for trendy things," Kristen says.
Kristen's advice is to head straight to your jewelry box and start digging.
"If you are going and finding something you already own, you aren't paying for anything new so that is always a great place to start," says Kristen.
A few DIY ideas:
HEAD TURNING HEELS:
Make sure you have two of the same bracelets. Grab a pair of shoes with ankle straps. Remove the original strap and slide in the bracelet, using the loop that held the original strap in. It's best to use bracelets with a chain that allows you to adjust to the width of your ankle.
CUTER CLUTCHES:
Whether the chain on your clutch is boring or broken you can add some ump by adding a necklace. Use your fingers or pliers to remove or cut the loops from the strap of your clutch. Remove any lobster claws or clasps that might be on the necklace you want to use as your new strap. Use jump rings or the original loops and pliers to connect your necklace onto your clutch. You can easily switch out necklaces to match your outfit or style.
BUTTONS RINGS:
Do you have a box of old buttons? Use the pretty decorative ones to make a ring! Buy ring bases at any craft store. Grab some E-6000 glue or even super glue. Use snipers to cut the shank off of the bottom of the button to create a flat back. Glue the button on the ring base. You now have a unique ring that no one else at the party will be wearing!
For more DIY projects from Kristen Turner, visit her website at www.glitternglue.com.