Deals Episodes
Inexpensive DIY Valentine Gifts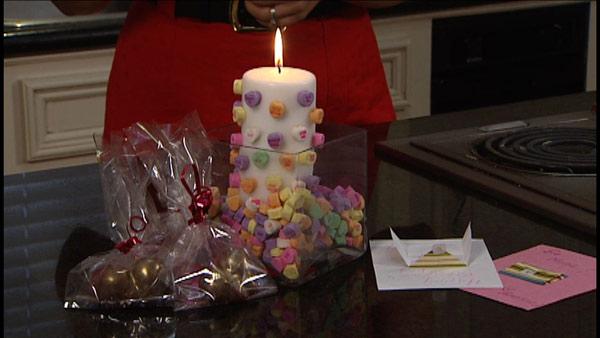 Kat Cosley invites you into her kitchen to share three inexpensive ideas to impress your special valentine using many things you already have at home.
Valentine's Day can be a lot of fun, but it's easy to spend a lot of money. Here's a few simple projects Kat does at home to make Valentine's Day sweet and inexpensive.
Chocolate-Covered Strawberry Hearts
Strawberries
Melting/Backing Chocolate
Toothpick/Skewers
Luster Dust/Colored Chocolate Melts (optional)
Parchment Paper
Cut the strawberries in half. Lay them side by side and secure with a toothpick or skewer to make a heart. Prepare your chocolate by melting in the microwave in 30 second increments. Blot the strawberries on a paper towel to remove any water or juice. Dip them into the melted chocolate and sit on a piece of parchment paper to dry. Decorate with luster dust or colored chocolate melts. Kat puts hers in plastic wrappers and ties with a ribbon. You can also fill the strawberry with marshmallow fluff. Once you cut the strawberry, cut a small hole in the center of each strawberry and fill with the marshmallow fluff. Cover just the marshmallow fluff with chocolate and let it dry. Once dry, dip the entire strawberry in the chocolate and let it dry. Decorate with luster dust or colored chocolate melts.
Easy Folded Valentine
Construction Paper
Glue
Scrapbook Paper
Stickers
Fold the construction paper in half and in half again. Cut into four pieces. Set that to the side. Cut a heart out of your scrapbook paper. Write a note inside the heart. Turn the heart upside down and fold both sides in. Fold the bottom up and the top down to make an envelope. Secure with a sticker. Glue the envelop to one piece of construction paper. Decorate the construction paper with a Valentine greeting.
Valentine's Day Candy Centerpiece Candle
Candle
Vase
Conversation Hearts
Hot Glue
Glue the candy hearts onto the candle in any design you like. Pour a thin layer of hearts in the bottom of your vase. Add the candle and fill the vase with the remaining candy.