Deals Episodes
How to Make a Miniature Fairy Garden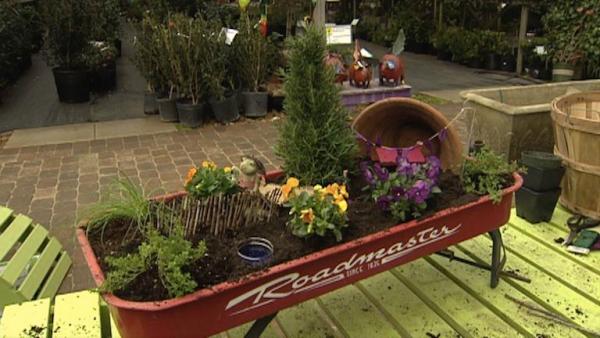 Mini fairy gardens are one of the hottest trends in gardening right now. Here's how to save money by making your own with this easy DIY project.
They sure are cute, but buying a fairy garden from a greenhouse can cost $75 or more. Gardening expert Beverly Welch, owner of The Arbor Gate shows us how to save money by making our own mini fairy garden plus DIY accessories.
How to Make a Mini Fairy Garden
Materials:
Organic rose soil
Rosemary
Thyme
Flowers
Chives
Wagon
Drill
Directions:
Be creative with a container: we used on old wagon. Drill out holes on the bottom for drainage. Fill the container with soil all the way to the top. Add plant, herbs or vegetables making sure to use plants with like sun and water requirements. Add accessories.
Ideas for Fairy Garden Accessories
Blue marbles
Bottom half of a water bottle
Broken pot
Decorative fairies ($1.99 and up)
DIY Fairy Hammock For Mini Garden
Materials:
Directions:
Cut a piece of burlap for the bed of the hammock. Because burlap frays you want to reinforce the long-sides of the hammock by weaving the string from one corner to the other. Repeat on the other side. At each end add a stick securing with string.
DIY Mini Fence for Fairy Garden
Materials:
Directions:
Pick several stick that are the same length and width. The length of your fence will be determined by the number of sticks you have. Twist floral wire around end of one stick, leaving a little space between and add the second stick wrapping wire around. Continue adding sticks until you have the desired length of your fence.
DIY Flags for Mini Garden
Materials:
2 Shepherds Hooks or Wire Hanger
Ribbon or fabric
Stapler
Directions:
Cut small diamonds out of ribbon fabric. You can make your flags as colorful as you want. Loop each diamond on to a string, creating triangles. Staple or glue each triangle into place. Tie the end of the strings on to a piece of wire and hang in your garden. For more from The Arbor Gate, visit
arborgate.com.