Deals Episodes
Homemade Baby Food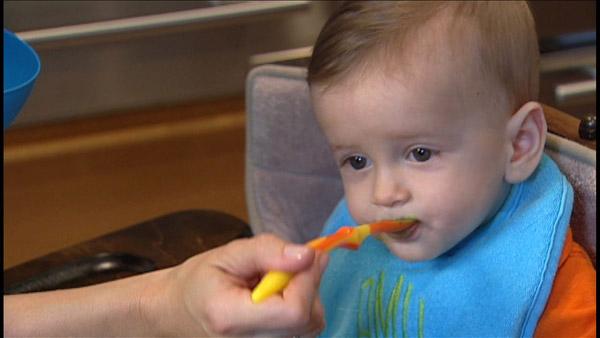 Having a baby can get expensive -- especially when it comes to food. At more than $ 1.50 a pop -- buying baby food can really add to your grocery bill. Making your own baby food will do more than just save you money.
"You always get a better product when you know what's in it," says the "Dining Diva" Molly Fowler. "When you create your own baby food at home, it's so easy there's no reason to pay so much more for the already prepared baby food."
Molly Fowler -- aka the "Dining Diva" knows a thing or two about making food that tastes good, even for the smallest members of your family.
"We are going to start off today by making a very simple sweet potato for the baby," say Molly. "This is a wonderful flavor, great nutrition in a sweet potato. Great vitamin C, vitamin A, it's one of those super foods for your baby so great to introduce them and it does have that naturally sweet flavor."
Sweet Potato Baby Food

2 lbs sweet potatoes
1 cup water for roasting
1/2 cup water for blending
dash of allspice
Directions: Put the sweet potatoes on a baking tray and cover with about 1 cup of water. Bake for 50 minutes to 1 hour. Scoop the "meat" out of the potatoes and set aside. Combine sweet potatoes, 1/2 cup of water and allspice together in a blender.
You can also get creative when it comes to vegetables with something Molly calls "Super Greens."
"This is a perfect combination of super vitamin rich foods to give to your baby," says Molly. "It's a combination of spinach, broccoli and cauliflower."
Super Greens Baby Food

4 ounce spinach leaves
8 ounce broccoli florets
1 small cauliflower
1/2 cups milk
dash of nutmeg
Directions: Cook and then blanch the spinach and broccoli. This keeps the colors nice and bright. Combine all cooked veggies in the blender with a 1/2 cup of milk.
Now for something that's sure to be a favorite try adding blueberries to homemade applesauce.
" Every baby loves applesauce but this we are taking just a step further, adding in more nutrients, getting those great antioxidants that blueberries provide," says Molly. "When you are choosing your apple, make sure to get a sweet apple."
Blueberry Applesauce Baby Food

4 organic apples
1 cup blueberries
1/8 teaspoon ground cinnamon
3/4 cup apple juice or water
Directions: Boil the apples and blueberries with apple juice or water until its fork tender. Add cinnamon and combine all ingredients with the juice into the blender.
And here's a combination you may not have thought of before -- avocado and banana. Molly mixes up half of a banana with half of an avocado.
"One of the concerns with using both banana and avocado is the fact that the exposure to air oxidizes them and they turn dark," says Molly, "So to minimize that and to keep the color nice and bright I'm going to add in a little bit of orange juice to keep that acidity in there but also keep the nice fruit flavor going."
Molly recommends putting the finished baby food in ice cube trays. Each frozen cube of food is one ounce.
For more information visit thediningdiva.com.