Deals Episodes
Happy Healthy Summer Survival Kits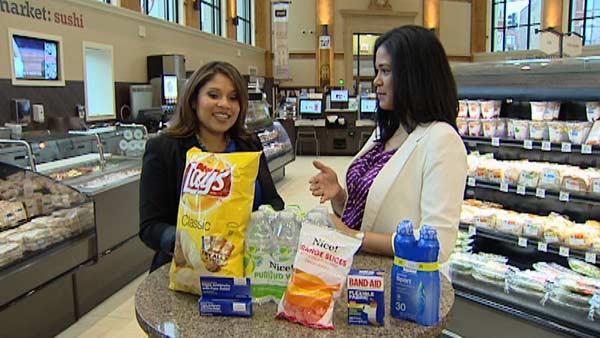 Whatever are you planning for your summer getaway, be prepared with a summer survival kit and save money with a quick trip to Walgreens.
"We were going to travel around and go see everything but as high as everything is we just can't do it - we've got to budget everything like everyone else," said vacationer, Richard Kent.
"We've got a family of six so plane tickets are out of the question - we're just going to drive around and see things that way - it's cheaper," said Steven Long.
The high cost of travel is making "staycations" more popular than ever. Overnight camping trips, short road trips, beach outings, whatever you choose to do, there's one trick to guaranteeing a great "staycation" on budget!
"Being prepared is always the safest way to go," Mai Lee Ua, Walgreens spokesperson.
Walgreens Mai Lee Ua says preparing a "survival kit" in advance of your summer getaway is key.
"Here are some items we think people should pick up when preparing for their road trip survival kit," said Mai Lee, "We've got potato chips here because a hungry traveler is not a happy traveler. We've got your bottled water and something a little sweet for the sweet tooth, so little orange slices. We've got sunscreen, band aids and ointment to heal any minor cuts that might happen."
When you prepare on the front end Mai Lee says you can really take advantage of sales through the Walgreens Rewards Card.
For your staycation survival kit, Mai Lee recommends an inflatable pool, cups, swim, and goggles.
"We also have your paper plates, your essentials, swim rings, grilling - really anything you need to have that neighborhood get together and make it be a hit." she says.
And Mai Lee says while we are all familiar with name brands - don't be afraid to branch out to private labels - they can save you an average of 30 percent over national competitors!
"Our Nice brand is our private label store brand and it's really great for those basic needs. There's lot of variety of Nice products and a great way to save on goods that have great value."
And don't forge, Walgreens, a sponsor of this program, offers a rewards card for even bigger savings.
"It's a free to sign up and they can get great discounts on weekly featured items all they have to do is look for the blue tags in the stores," said Mai Lee, "Here's a really good example of lays potato chips that are actually with balance rewards points you get 1000 when you purchase them so it's a really great sale, it's a name brand and who doesn't love potato chips."
"I have a balance rewards card and I do use it, so what happens? They're just accruing points?" said Kat Cosley, host.
"At the point of checkout if you have 5,000 points they'll ask you if you want to redeem that right then or you want to continue to save those points for a bigger redemption value at a later date and when you redeem them what do you get? You get cash off your purchases. So when you have 5,000 points it's $5 off. "
Whatever your plans are, even on a budget, you can still have healthy happy summer!
For more information:
http://www.walgreens.com/