Deals Episodes
Get an Entire Wardrobe for Under $100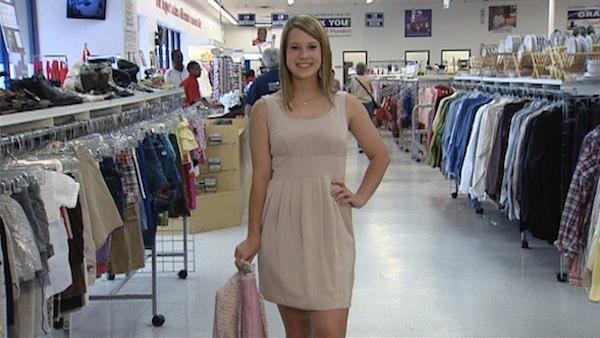 If you're looking to maximize your closet on a minimum budget, these bloggers are here to teach you how. See their tips for creating an entire wardrobe out of finds from the thrift store, choosing a few pieces you can mix and match make dozens of stylish outfits.
Bloggers Jen Meneely and Pippa Williams love hunting bargains in thrift stores. Kat challenged them to help us stretch our wardrobe by getting the most wear out of each piece. So how can you get an entire wardrobe, complete with a dozen outfits, all from Goodwill or your local thrift store? Here are their tips:
1. Buy clothes in the same color palette.
Choose pants, shirts, jackets, skirts and dresses that all share the same color family. For Jen and Pippa's first wardrobe, the pieces they put together were pink, beige, tan, orange and white. Their second, navy blue, white, yellow and denim. By keeping things within the same color family, whether they're solids or prints, you guarantee that almost every item can be worn with everything else, giving you more outfits for your buck.
2. Look for quality neutrals without patterns.
The basis of every wardrobe should include some quality neutral pieces without patterns that you can pair over and over with other items - like a pair of white pants or a great denim jacket. By avoiding patterns on your main wardrobe pieces, you can maximize their wearability.
3. Find a few statement accessories.
Once you have your color palette, find a few accessories that make your outfits really pop. A plain dress and jacket may not seem very exciting until a fun necklace sets it off and makes a fabulous outfit. To see more thrift store finds from Jen and Pippa, visit
TooCheapBlondes.com.