Deals Episodes
Get Free Stuff For Hosting House Party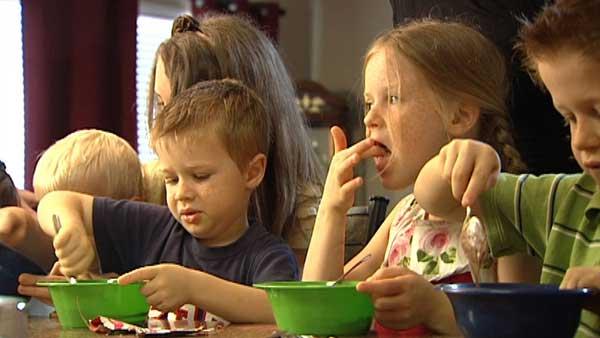 In the 50's Tupperware parties were exploding -- ultimately empowering women around the world. Fast forward about 10 years and Mary Kay began painting even bigger smiles on ladies' faces. Over the next three decades the concept continued to evolve from house ware to jewelry. But there's a new party in town.
"I love it, my kids love it, my friends love it - it's an awesome thing to be a part of," said Super Saver, Erin Libranda.
It's called House Party - unlike its predecessors the type of products offered are endless.
"They've sent us in the past different things for the WII now we're doing the fisher price house party," said Erin.
Not only do they want you to invite your friends, but encourage you to take photos and share on social media. On House Party's website we found parties for a new interactive board game, a popular DVD release party and even a Keurig brewing party with the newest coffee flavors. The common link: the products are always brand new items on the market.
Erin Libranda received about $200 worth of toys for free just for hosting a party!
"Sent four different toys from 6 months to 36 months age range - which is nice it will grow with the baby and different skill levels, different activities where they're learning colors and shapes and following and hand eye coordination and stuff like that," said Erin.
I'll bet little Addison won't ever want to leave grandma's house now!
"Right she'll have them for another 30 months where she can actually grow into them, they grow as she grows," said Erin.
Kim Noble's box includes 8 tubs of plain icing, more than a dozen different flavors to mix into that icing and dozens of *free coupons for Duncun Hines cake mixes and flavor pouches.
"That makes it even more fun for me because I don't have to stress doing all the prep work beforehand," said Kim.
She didn't have to look to far when thinking of guests for her party - with her six kids and her friend's seven - Kim had an instant crowd!
Just like Erin, all she had to do was go online and sign up to host a party, but as you might have imagined only a handful is chosen!
Using a cake mix they got with the free coupons, Kim puts the oldest children in charge of baking the cupcakes! While those bake, she gets started on the icing! Ideally, the entire flavor packet would go in one tub of icing, but with all these kids and so many different taste buds - we decided to let them mix their own favorite flavor! And it was definitely a hit!
I'd say the party was a success!
"I think it's fun when the whole family can join in - not just something adults can do but kids can join in too - we all had a lot of fun making our own icing," said 11 year old Georgia Romer.
"It's just so cool that it's free and you don't' have to just buy it, it's hard to buy it so it's free and you don't have to waste your money," said 6 year old Isaac Nobles.
"It was a lot of fun it was an experience we would do again," said Kim, "we have lots of extra frosting and we can try it over and over and over."
And as you might have guessed, the more times you try it - the more these businesses are hoping you'll buy!