Deals Episodes
Fun Ways to Display Kids' Artwork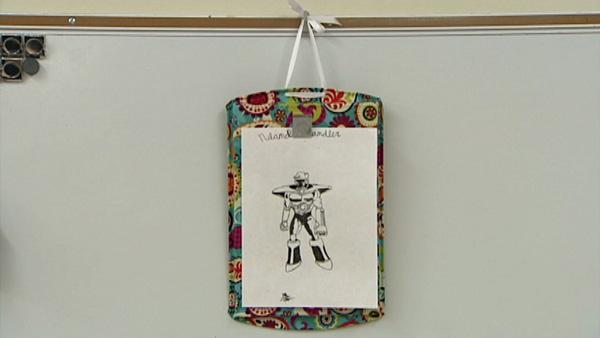 From paintings to knick-knacks, kids are always bringing home their artwork. But what do you do with all of it, other than sticking it to the fridge? Here are a few cute craft ideas, including a magnetic cookie sheet display board, a yardstick corkboard, a decorative clipboard and an art frame.
St. Francis Episcopal Day School Art teacher, Amy Chandler, has a few great ideas on how to display your kids artwork around your house.
Magnetic Cookie Sheet Board
Materials:
scissors
cookie sheet
fabric
spray adhesive
drill
drill bit
ribbon
Directions: 1. On one of the 'handles' of the cookie sheet; measure 2 inches where you want to drill two holes. You'll string ribbon through these to hang the cookie sheet once we're done. Use a sharpie to mark where you want the holes to be and drill the holes. 2. Cut fabric around cookie sheet, leaving about an inch or two around the edges. 3. Cover the front and back of the cookie sheet by using spray adhesive and press the fabric to adhere, smoothing out any wrinkles. 4. Use scissors to make room for the ribbon in the hold you drilled so you can tie a bow and use as a hanger. Use a magnet to display the creations your kids bring home!
DIY Framed Art
Materials:
frame with wire backing (bigger is better)
decorative clothes pins
Directions:
Simply take the backing and glass out of the frame, but leave the wire. Use decorative clothes pins to hang art!
Decorated Clipboard
Materials:
clipboard
spray paint
paint pens
Directions:
Decorate a boring clipboard with spray paint or paint pens. Put that clipboard to use by clipping your little ones creations and swapping them out whenever you get a new one!
Yardstick Corkboard
Materials:
yardstick
lots of wine corks
glue gun
push pins
Directions:
Hot glue old wine corks in a row down the yardstick. Wait about 24 hours before using. Hang on the wall longways, using push pins to hold kids art!