Deals Episodes
Free Dental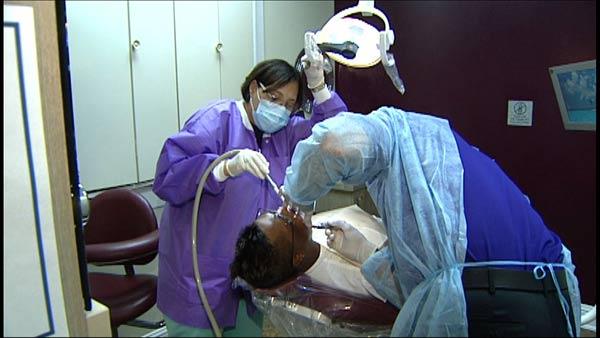 A group of dentists are on a mission to help others get FREE dental care.
"I have 12 dentists volunteering. I have about 15 assistants and 3 hygienists," said Dr. Allison Scott Cuillier, "I've called all of my old assistants that I've worked with over the years. They are all here volunteering."
"We just felt it was important for our community to have a day where we offer free dental care for people who can't afford it," said Dr. Chalilah McAfee.
"To see all the dentists and the hygienists and assistants that are going to be coming to volunteer, this is nice," said dental assistant Shequa Mitchell, "Some people can't afford it and they are down. When you can go and do something free. They need that, they need that."
"I'm here volunteering. Right now I'm the pencil guy. I'm the pencil, water guy," said volunteer George Russell.
This day of free care is part of a bigger movement.
"Dentistry from the Heart is a nationwide organization composed of dentists from all over that have a free dental day," said Dr Cuillier.
Thousands of people across the country have been helped by the non-profit group.
"I think this is very important there are lot of people - especially since the economy has tanked," said college student, Takashamiya Henderson.
"When we found out people were here before we got here, we were just really excited," said Dr. Cuillier.
"With today's economy and the things that are going on a lot of people can't afford dental care," said Dr. McAfee, "Unfortunately people feel like their dental care is not important unless they are in pain. We have a lot of people walking around in pain or general cleaning or can't afford to get it done."
"I was kind of shocked when I pulled up this morning and there was that many people here. I'm glad that we will be able to help that many people," said Dr. Cuillier.
Before the doors even opened, 60 people were waiting outside.
"In our minds we thought 100. Then it went from however many people we can see between 8 and 5," said Dr. Cuillier, "I'm full of joy. I'm ready, I'm excited. My heart's pumping, I'm ready to go, we are ready to go!"
The patients have their choice. After an initial exam to make sure they are in good health, they can choose one procedure, either a filling, cleaning or extraction. Using the number system, volunteers began ushering people back to see the doctors.
"I'm a disabled veteran and they passed out flyers where I live. I need a cleaning," said patient Cecil Stevenson, "I live on a very small income. There's plenty of people in my shoes and many of these people shoes. It's very important to those who can't afford dental work. I'm very grateful for them."
"I don't have health insurance myself," said patient Leslie Harris, "For me to have dental care would be very very expensive and it's not affordable if you don't have insurance or health insurance."
"I think it's very beneficial for the community. It's a blessing," said patient, Reginald Williams, "It's free and more people get their teeth cleaned and whatever they need taken care of."
"Something like this is very helpful for those of us who are in college and don't have benefits right now," said Takashamiya Henderson, "Or unemployed and don't have benefits right now. I'm going to get a filling because it's the most pressing thing. I have a chipped tooth and I need it filled."
"If you haven't had it maintained," said Dr Cuillier, "A simple filling can turn into a root canal or even an extraction. A lot of people wait until they have a problem to come, instead of coming every six months for a regular check up."
"A lot of people don't realize when you don't get your teeth cleaned - it causes the whole apparatus that holds your teeth into place to start to break down," said Dr. McAfee, "So people just wake up one day and they are like 'oh my goodness my teeth bleed a lot and they are loose.' And that all has to do with having a cleaning done on a regular basis."
By the end of the day, this team managed to see 125 patients!
"I like to see the smiles on their faces. When they come in one way and they leave out another," said dental assistant, Shequa Mitchell, "It's a lot of people their self esteems are low because of their mouths. You can perform miracles. A lot of them cry when they see their smile, sometime just from a cleaning."
"I think it's a good thing. It's just good. Its' community building," said Williams. "It's an opportunity for people who really never had an opportunity to even think of dentistry to have a shot at it. And maybe from this point on, something good happen for them."
"Something like this is a big blessing. It's a great opportunity for people to see that somebody cares," said Henderson.
To check for other free dentistry days click here: http://www.dentistryfromtheheart.org/
For more information on the Lasting Impressions Dental Group: www.lastingimpressionsdentalgroup.com/