Deals Episodes
Discount Restaurant Supplies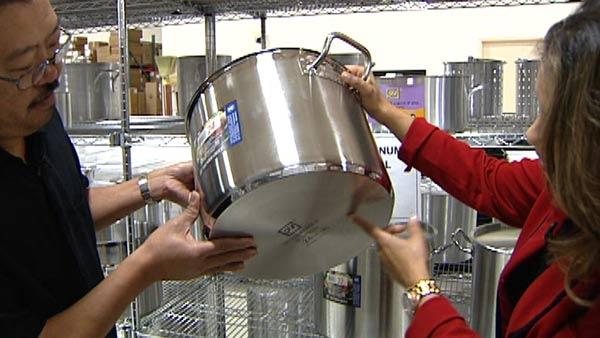 You may not know this, but you can get restaurant quality materials for your kitchen at very cheap prices. Restaurant supply companies are open to the public.
"They have from A-Z where we can come and get whatever we need for the restaurant or for the house," Jimmy Baba.
Jimmy Baba has a bit of advantage over most of us. Being a restaurant owner he already knew about the deep discounts offered at restaurant supply stores.
"We have 12 restaurants and they're always breaking stuff and always busy so anything we need, we come here," said Baba.
But it's not only his restaurant he's shopping for.
"I do a lot of grilling. I buy a lot of my grilling stuff here and cleaners and all kinds of stuff we need to do with cooking or the kitchen," said Baba.
Owner of Budget Restaurant Supply, Tom Chan says he actually has a lot of products that might interest the average customer.
"At most restaurant supply companies you don't have to buy like 500 of each item. Some items you might have to buy like a dozen plates and glassware. But like cutlery, pots and pans, buy them by the singles, just like any other store," said Chan.
Tom showed us stainless steel stock pots with heavy clad bottoms. He says you can cook on these pots for hours and they won't burn. That's the biggest difference in products you'll find at a restaurant supply store compared to other stores.
"Primarily it's the quality," said Tom, "That's the main thing. The pots and pans they have to be sturdy enough where they're used 8-10 hours a day. Most of the time when you buy a product at a restaurant supply company you don't have to replace them very often because it lasts so long."
Tom says he has a lot of options when it comes to skillets.
"We sell the non stick, especially this brand right here because there's ceramic guard on it which is like probably the toughest Teflon used. It's very hard to come off. This is not a non stick, it's fully aluminum. You can feel it's heavy duty," said Tom.
Tom showed us an egg cooking pan, all in one knives, and fruit squeezers.
"The good thing about a restaurant supply is you're not paying full retail. Most restaurant supplies across the country, your markup on your product is pretty thin because you are moving bulk. You're selling by volume, you're not getting rich off one item."
For more information: